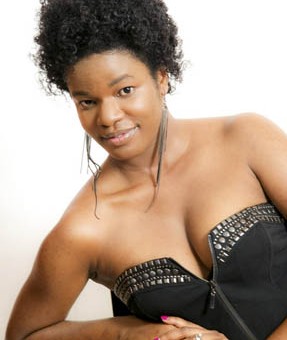 Her love for the literary arts and her passion for drama are what drive Lloyda Nicholas-Garrett. One year new to the stage, she is still striving to overcome herself. But she is a perfectionist and perhaps that is the reason she won the National Drama Festival's Best Actress Award of 2012, for her role in Colette Jones-Chin's play Virtues and an astounding six nominations for her play, While God Watched.
Born February 16, 1981 at Medical Arts in Georgetown, Lloyda and her little sister were primarily raised in the city, but spent holidays with relatives in Linden or on the West Demerara.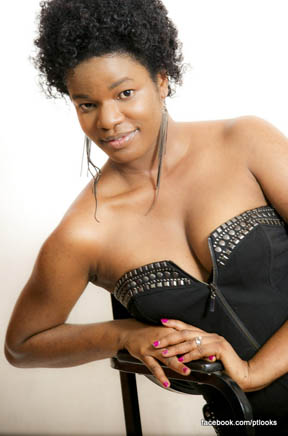 Her mother, Jeanette Osborne was the sole provider for all her needs and Lloyda says she considers her one of the strongest persons she has ever known. She explains that it was her mother who sparked her artistic dream: when she was around five years old her mother took her to see Moon on a Rainbow Shawl, at the Theatre Guild, and she knew right then that was where she belonged. She says her mother provided everything she and her sister needed to develop into productive individuals; she groomed their talents and was extremely focused on insuring her two daughters had the best possible education.
Lloyda and her sister Melaika Grogan shared close relationships with their cousins who she considers to be their first friends. Melaika now resides in Barbados, but this does not hinder the loving relationship the sisters enjoy.
She also has another sister from her father whom she met only once and unexpectedly. This sister was born in Jamaica but grew up in England. Lloyda enjoyed spending time with her long lost relative and was pleased to see how much they had in common, the trio share a common interest in the performing arts and each is talented in writing.
She recalls that during her leisure days in Linden, while her sister and cousins would be out frolicking in the sand or climbing trees, she would get away to read a book. She had the best of both worlds since she loved the outdoors, but a good book was what set her imagination on overdrive; it was generally a mixed experience.
Her most memorable childhood experiences are putting on puppet shows and making up stories based on the storyline of the Bill Cosby Show, which she loved as a child. She would use her grandmother's vanity as a platform where the various cosmetics became characters. With her imagination in full swing, she would also make 'paper people' and provide them with identities, voices, personalities and an entire original storyboard.
And her creativity flowed into her academic education. The first time she performed was a poem at the graduation ceremony of the Stella Maris Primary School. She attended President's College where she strengthened her talents with the guidance of her music teacher Kenton Wyatt and her English teacher Ron Chichester. She credits them for their instrumental involvement in what she produces. She says the environment she was placed in really allowed her to develop her talents in dramatic poetry and singing; she was actively involved in the school's choir. She graduated from the boarding school in 1997 and followed that with a Degree in Communications from the University of Guyana.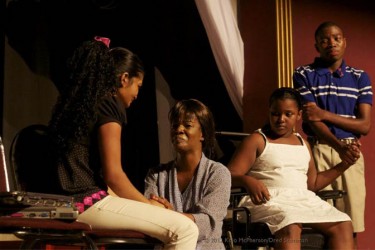 "Drama is a dream come true. It is me living out my passion," she says. But this was not always the case. Although she loved the arts, it was seen more as a hobby and she pursued a professional career in communications, which took her all over the region, pushing back her dream for over a decade.
Her love of theatre and writing was effectively locked away until she met Shakirah Bourne, a Barbadian writer and artist well known in the Caribbean. They became friends and it was Shakirah who made her realise that she was wasting her talent; this pushed her to start writing again.
Because of Shakirah's influence, Lloyda moved back to Guyana from Barbados and joined the Theatre Guild, finally coming full circle.
Lloyda draws her inspiration from her mom, Shakirah and Dr Paloma Mohamed, who among other things, is a prize-winning playwright. Lloyda is inspired by not only her creativity, but her gift of recognising talent and teaching. She says, "She [Paloma] is a phenomenal woman and she always goes way beyond boundaries. There are some people in theatre who will not give their gifts to the younger generations to help them grow, but [Paloma] is the complete opposite of that."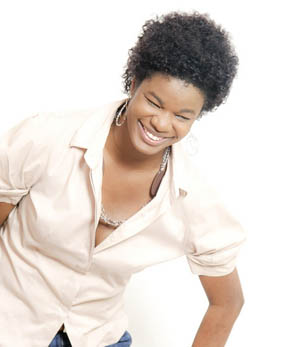 Lloyda considers herself lucky to work with and be taught by some of Guyana's best dramatists. In just one year, she has made several strides. She was cast in Link Show 28, Collette Jones-Chin's staging of the Vagina Monologues, Paloma Mohamed's productions Love Thou Art and Phenomenal Woman and she has participated in Merundoi's playwriting class.
"I always want to do better every time I go on stage," she says. "I love the arts so much. Whatever I can do to be a part of a production is no problem to me because it is a joy to see it build from the ground up."
After her role last year in Ronald Hollingsworth's 83 Million Gees, Lloyda was flabbergasted to read positive reviews on her performance by art critic, Al Creighton. He wrote that Lloyda Nicholas-Garrett attacked the role with "energy and precision," that she was "capable" and a "revelation". She told her mother then that she wished she had that moment for life. To which her mother replied, "If you have this moment for life then you will never go higher."
Ever since that conversation she has a new motto, "My best production is always my next one." Everything she does, everything she has accomplished, she strives to make her future work better.
But her first year in the industry was not always a bed of roses. She had some tribulations and negative moments. She says: "One minute you can be up, the next minute you're down. In life you need to try and be humble and have others praise you for what you do, let them see your potential and passion. At the end of the day, I am my biggest critic."
Lloyda strongly believes she has a role in helping the industry to grow; helping the next generation to be stronger than the last. She mentioned the need for the industry to also draw from the bankable pool of performers outside the borders of Georgetown. "There are so many talented people in the rural areas. I want to see us… take [more] theatre to these communities; reach out to people who might have talent and start community drama workshops."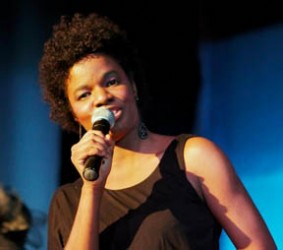 Her future plans include launching her own production company, named 'Crazy Beautiful Production' by the end of this year.
As a writer, she wants to produce and stage her own work.
She wants to be in productions that are a challenge to her, to do more writing, to publish her own poetry, and start back writing short stories. Most importantly she wants to purse a Masters in Cultural Studies and Performing Arts. She intends to do freelance work in terms of writing, where she can use her talents.
Around the Web