Macklemore & Ryan Lewis continue their out-of-the-box success story, as "Thrift Shop," featuring Wanz, tops the Billboard Hot 100 with a 2-1 rise in its 16th week. Justin Timberlake, meanwhile, vaults 84-4 following the first full week of airplay and sales for his comeback track "Suit & Tie."
After the pair's independently-released album 'The Heist' blasted onto the Billboard 200 at No 2 the week of Oct 27, "Thrift" thrives with the Hot 100s top Digital Gainer award for a second consecutive week.
"Thrift" passes the previous record-holder, Gotye's "Somebody That I Used to Know," which registered 1.41 million on-demand streams the week of May 5, 2012. Airplay continues to build for "Thrift," which bounds 22-14 on Radio Songs with 58 million all-format audience impressions (up 32%), according to BDS. The track lifts 9-6 on Rhythmic, 17-16 on Alternative Songs and 23-18 on Pop Songs.
"Thrift," which tops R&B/Hip-Hop Songs for a second week and Rap Songs for a third, marks the first debut Hot 100 No. 1 for a rap act since Wiz Khalifa sent "Black & Yellow" to the top the week of Feb 19, 2011. The pair is also the first duo to dominate the Hot 100 with its first entry on the list since (cue the wedding DJ …) Los Del Rio, whose pop culture smash "Macarena" ruled for 14 weeks in 1996.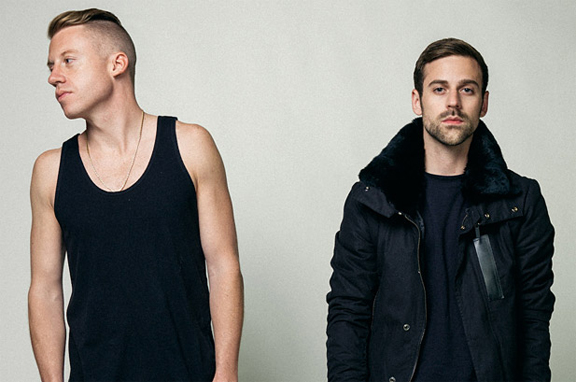 With the coronation of "Thrift," the Warner Bros label celebrates its first Hot 100 No 1 since Jason Derulo's "Whatcha Say," (also a debut entry) led the Nov 14, 2009, chart.
"Thrift" dethrones Bruno Mars' "Locked Out of Heaven" (1-2) after six weeks atop the Hot 100. Still, "Heaven" logs a fifth week at No. 1 on the Radio Songs chart (146 million, down less than 1%). "Heaven" holds at No. 2 on Streaming Songs (1.26 million) and dips 4 -7 on Digital Songs (135,000, down 16%).
Macklemore & Lewis win the race to the top of the Hot 100 by a fairly comfortable margin over "Heaven," as approximately 9,000 overall chart points separate the titles (after "Heaven" topped "Thrift" by about 3,000 points last week). "Thrift" gains by 22% in points, while "Locked" loses 6% of its sum.
The Lumineers' "Ho Hey" stays at its No 3 peak to-date on the Hot 100, while leading the Rock Songs chart for a 10th week. It pushes 3-2 on Radio Songs (117 million, up 3%), bullets again at No 4 on Streaming Songs (1.25 million, up 5%) and holds at No 5 on Digital Songs (156,000, up 1%).
Justin Timberlake scores the Hot 100's lone new top 10, as "Suit & Tie" rockets to No 4 from its No 84 debut last week. The lead single from his forthcoming album 'The 20/20 Experience' storms onto Digital Songs at No 2 with 315,000 first-week downloads sold. As previously reported, the total marks Timberlake's best sales week for a download, besting the 250,000-unit start of his seven-week Hot 100 No. 1 "Sexy Back" in 2006. It's the heftiest start for a song by a male artist since Justin Bieber's "Boyfriend" began with 521,000 the week of April 14, 2012. In its second week on Radio Songs (reflecting its first full week of airplay), "Suit" shoots 33-16 (54 million, up 50%), fuelled by a record-setting start on Pop Songs, where it launches at No 14 with more than 6,000 opening-week plays at the format.
"Suit," which vaults 9-1 on the R&B Songs chart (and 27-2 on R&B/Hip-Hop Songs), grants Timberlake his 12th Hot 100 top 10 and first since Ciara's "Love Sex Magic," on which he guested, reached No 10 in April 2009. He hadn't inhabited the top tier as a lead artist since "Summer Love" rose to No 6 in June 2007.
Timberlake now boasts twice as many Hot 100 top 10s on his own as he tallied as a member of 'N Sync; the boy band scored six top 10s between 1999 and 2002.
After climbing to No 2 three weeks ago, Taylor Swift's "I Knew You Were Trouble." continues gaining, despite slipping 4-5 on the Hot 100. The new No 1 on Pop Songs claims the Hot 100's top Airplay Gainer award for a second straight week, charging 4-3 on Radio Songs with a 20% increase to 115 million. It descends 2-3 on Digital Songs (221,000, down 16%). The song is not available to subscription streaming services and thus, does not appear on the On-Demand Songs chart; its radio streams alone are not strong enough for it appear on Streaming Songs (which ranks both on-demand and non-interactive streams).
Rounding out the Hot 100's top 10, will.i.am and Britney Spears' "Scream & Shout" bullets again at No 6 (and leads the new Dance/Electronic Songs chart for a second week); EDM trio Swedish House Mafia's "Don't You Worry Child," featuring John Martin, holds at No 7; Rihanna's former three-week Hot 100 No 1 "Diamonds" drops 5-8; Justin Bieber's No 5-peaking "Beauty and a Beat," featuring Nicki Minaj, backtracks 8-9; and Phillip Phillips' "Home," which takes over atop Adult Contemporary, retreats 9-10.