"Drama is hectic but very rewarding; you need a lot of tolerance, patience and discipline… Drama needs those qualities because it is a business in addition to be being entertaining. You have to be committed to it. Ultimately you have to be able to prove yourself and please audiences. I must be a sucker for hard work, to still be in it" – Gem Madhoo-Nascimento
Indeed a hard worker with an undying love for the theatrical arts, Gem Madhoo-Nascimento has made significant contributions to the art, cultural life and tourism of Guyana.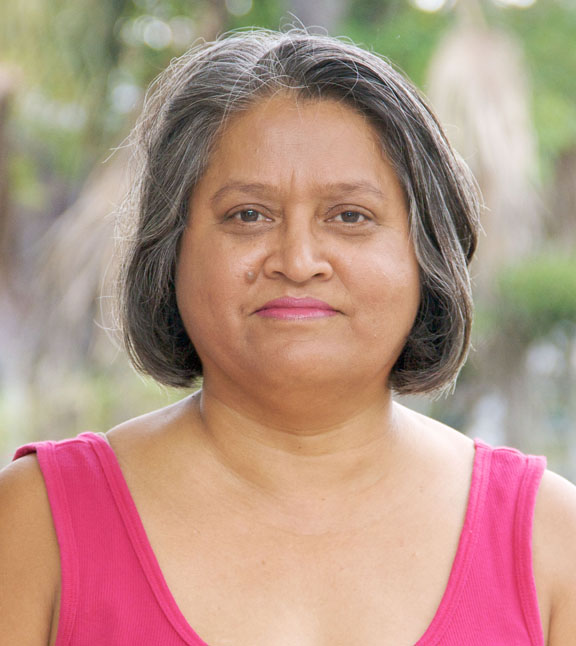 She was born on the Corentyne Coast and grew up in a big family surrounded by nine siblings. After completing her secondary education at 17 at the privately owned Corentyne High School (now JC Chandisingh High School) she moved to Georgetown where she worked at a bank while pursuing private studies in accounts.
During the early seventies, she became a member of the now defunct PSU Drama Group, and although she is now proficient at directing, writing, producing and designing, it all sprang from one day on a theatre stage, acting, when she really wanted to be working backstage in props, costuming and designing. But her heart really caught on fire that day and she was compelled to join the Theatre Guild.
Gem's training in stage and production management came from Theatre Guild workshops and other theatre workshops overseas. She said that basically all her non-performance tasks that go into theatre came from her time there.
Most artists approach their dreams with a sense of creation and passion, but not Mrs Gem Madhoo-Nascimento. She revealed that when she was first attracted to the stage, her business side shined brighter than her creative side. Working at a bank gave her a professional view of the arts, which she still holds today. Eventually the creativity escalated in equilibrium to the business and this manifested in her artistic legacies, like The Theatre Company.
In 1981 she was one of the founding members of a theatre group whose sole aim was to make drama a professional industry. The Theatre Company was the very first legally registered organisation in Guyana to pay actors.
This gave space to local talent in all spheres of the theatre and it gave birth to a lot of things that are currently happening in Guyana.
The Link Show
One such offspring of The Theatre Company is the Link Show which is celebrating its 29th edition this month. The Link Show first premiered in 1981 and was an instant success, the show then and now presents, in satire, the cultural, social and political life in comedy, skits, dance and songs.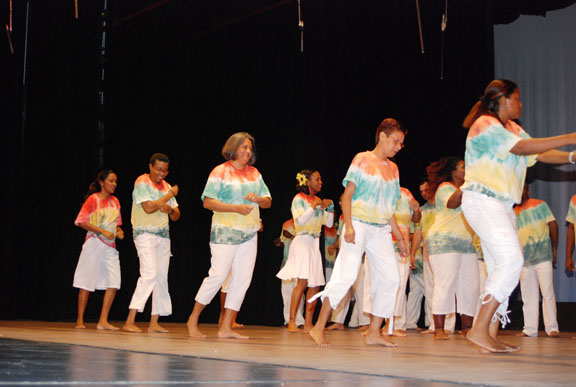 It was a spinoff of a Theatre Guild production called the Brink Show, which used to be produced every four years by the late Frank Pilgrim. Frank was even the one behind naming the Link Show because of its common connection between the National Cultural Centre and the Theatre Guild; it was also a new format to the Brink Show.
After being involved in over 150 productions of The Theatre Company, with the Link Show, which started out with 4 performances in 1981 attaining a run of 16 performances and 20 years later, Gem resigned from the company in 2002.
But she could not stay away from her baby, her longing for drama overwhelmed her and she formed GEMS Theatre Productions later the same year. "I just could not leave drama. I saw deficits in many areas. It needed people to produce more stuff and this is when I decided to continue on my own strength," she said.
In 2009, GEMS Theatre Productions collaborated with The Theatre Company to produce a bigger and better Link Show. "The Link Show is the only dramatic show to ever run for so long, there is no other show attracting this volume of audience." Indeed, on average the Link Show draws in an audience of around 20,000 people for one run.
With The Theatre Company, Gem travelled on extensive tours to New York, Canada and the Caribbean. "The experience gained over the years helped me developed my craft and talent," she said.
Moulding youth
In collaboration with the Canadian International Development Agency (CIDA) GEMS Theatre Productions formed 'GEMS Youth Theatre', which was an initiative to develop young drama and educate the generations through the arts. Twenty-five people all below the age of 16 became part of the initiative. For six months they trained in writing, directing, acting and stage craft. They went on to do 17 performances across Guyana centred on critical social issues ranging from HIV, domestic abuse, trafficking in persons to the promotion of clean and healthy environments.
With this promotion, the National AIDS Programme Secretariat (NAPS) sponsored the children's play Shattered Hopes and Dreams, which was based on HIV awareness and prevention. It was performed at eight schools around the city and its outskirts, converted into a film, shown on several local television stations and was part of the 2008 Carifesta Children's Village in the National Park. It even competed in the Ministry of Education, Unit of Allied Arts National Secondary Schools Drama Festival and won Best Production, in 2008. The domestic abuse play Enough is Enough was presented for the National Drama Festival in 2011 and received 9 nominations and 3 awards.
The work Gem has done moulding young people in her GEMS Youth Theatre has resulted in the emergence of many promising artists. To name a few: Nuriyyih Jerrard, Keri Phang, Clinton Duncan, Shevon Henry, Keona McKay, Ocean Hoppie, Sean Budnah, Paul Budnah and Kessia and Kassandra Branche.
Tourism and other things
In 2006, Gem was also the very first local woman to produce the highly controversial Vagina Monologues at the then Embassy Club. It has been produced several times by different producers.
But her love for arts and culture does not begin and end with drama. Apart from a few recurring Jazz concerts she promotes, Gem is the publisher of Guyana Where and What,
the official Tourist handbook of Guyana that just last month released its 7th Edition.
She described the book as "a one woman project". She got the idea from the Barbadian counterpart, Barbados in a Nutshell. With her love for history and her passion for creativity, she expanded on much more that the Barbadian booklet had; she added in historical data, eco-wonders, recreation spots, places of interest, festivals of Guyana, a calendar of events, Guyanese proverbs – all very educational and packaged into a tourist guide.
As if drama, producing, promoting and writing were not enough, she is the proud owner of the Hurakabra River Resort in the Essequibo River. Originally it was built as a retirement home for her and her husband, but, as she puts it she is just "not finding the time to retire". She opens the resort to guests from around the world, to whom she offers the true spirit of Guyanese hospitality. She described the resort as "an interesting exercise".
Along with her tourist guide, the resort serves as the perfect reminder to her that Guyana is indeed one of the greatest vacation spots in the world. Gem is a strong patriot who uses every opportunity to boast about her country. As a child, she was always captivated by the beauty of Guyana and during her early working years she visited places like Port Kaituma, Kaieteur Falls, Orinduik Falls and Lethem just to name a few before venturing overseas. "I never lived overseas and never yearned to live overseas. I have seen a lot of the world being widely travelled, but Guyana will always be my home. I was captivated by the beauty of this country at a tender age," she said.
When asked to give some insights on her work she said: "You learn from older folks, take the good parts of what they are doing and develop it and there are many people who inspired me; taught me so much. I'm very pleased with what is happening now with the Theatre Guild, the Drama School and all the commitment Guyana puts behind the industry but there is never something as a most accomplished piece of art for an artist, because you will always have pieces of work that you think is one of your best. You will never have your best once you continue to work in the field, you will always strive to keep doing better."
During her career, Gem has been accredited with many accolades and acknowledgements from around the world. She has received awards from the Guyana Cultural Association of New York, the Woman of Distinction Award from the Young Women Christian Association (YWCA) for her international involvement in culture and many others locally.
Gem would like to see investment in theatre stages across the country. "There are no proper theatres in Guyana to stage performances, outside of Georgetown and with Linden being the exception. Producers over the years have been creative and utilising open spaces and school halls but you will always need the stage, the lights, the effects. The Ministry of Culture should get more involved in working with drama groups and the regional offices to develop proper performance spaces and reduce the red tape to stage shows outside the capital so that when a production would like to go out of town they wouldn't have to go through a lot of hassles for approvals for permits to perform."
Gem has been married to Kit Nascimento for the past 14 years. He manages Public Communications Consultants Limited while Gem handles the finances. When asked what more we can expect from her soon in drama, she said, "There is so much talent around now and a new wave of young producers, directors and writers on the scene. I think it will be time for me to take a bow soon. However, I would like to find more time to focus on writing and other creative aspects of the arts."
Comments

GEMS Theatre Productions presents a new half an hour sitcom "Days Like Dese," a family-oriented comedy that surrounds the Rupauls, a middle-class Guyanese family.

Just three weeks short of the staging of the Miss Guyana Renaissance pageant, twelve ladies are kept busy perfecting dance routines, walk and speeches.

Twenty-year-old Keisha Brazh under the African name 'Serwah Mawusia,' is representing Ghana.

Put to task at the age of just ten to help to create the family's Christmas cake propelled Rabina Shivraj into a world of baking and decoration and today she has learnt the art of hooking her customers, first with her creativity and secondly with the taste of her creations.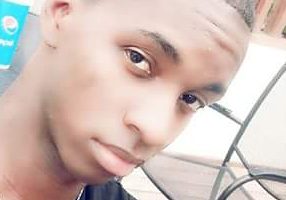 By Joanna Dhanraj With August fast approaching, the contestants of the Mr and Miss Guyana African Roots 2017 pageant are busy perfecting their skills for their big nights.