It is difficult to believe that the shy, soft-spoken Niossi Alsopp who sat down with The Scene this week, is the same one who took stormed the stage and won the Junior Calypso Monarchy with her rendition of Bonny Alves' "Drama School".
But as Niossi revealed, she did not do it for the fame and the glory or even the chance of getting into the National Calypso Championship—which she has—but because she had a message she was keen on sending out.
The lyrics, according to Niossi, deal with the provocative behaviours of teenagers in secondary school, who believe they are too "big for their age".
In the song, Niossi describes it as more of a drama show than reality; thus the title: "Drama School".
Niossi felt close to the lyrics because they speak to something in society that she wishes would change. "Bad manners must be stamped out of schools," she said. "I wanted to send out two messages to the students who are currently in school: Stop the lewdness in life, the time it takes for you to be irresponsible you can be constructive; [and] be involved in Calypso to the extent of reviving it."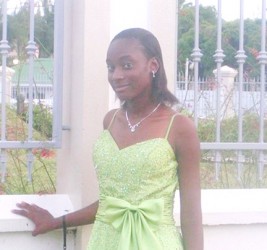 The evening of January 26 was a typical night for most people, but for Niossi it was the night of the Junior Calypso Monarch Final and she was a nervous wreck. With no formal training, no previous experience, just two rehearsal sessions and being the only contestant who did not perform in a costume or with stage props, she was shocked when she heard her name being announced as the winner. "I really didn't think I was going to win, I knew my diction was clear but I really did not dress up like the other contestants. The most I did was borrow a few children to dance behind me. When I heard my name I was in disbelief. I ran to my family and they were trying to assure me that I won but I just couldn't believe. Overall, I enjoyed the competition, the competitors and the organisers were very friendly."
Niossi was born to Carlton Alsopp and Shirma February at the Mackenzie Hospital on November 14, 1995. She spent her entire life in Linden, migrating internally from Half Mile to One Mile Extension where she still resides.
She is the middle child and grew up with her two siblings: 15-year old sister, Niomi and 19-year-old brother, Nially.  She described herself as very school oriented, with a passion for knowledge since she always gained top marks in her class. She excelled all through her school life and graduated with honours from the Mackenzie High School after passing her CSEC Examinations with 5 Grade Ones, 6 Grade Twos and 2 Grade Threes. But academics was not all she loved in secondary school; she served as House Captain in her senior year and competed in many sporting events such as long jump, cricket and basketball. "I was never dedicated to sport, but I was committed," she said.
Always an awardee at school Prize Giving ceremonies, she also sang in the choir. Niossi is now in Sixth Form at Mackenzie High and is well respected as the unofficial de facto Head Prefect.

Her grandmother always said that even before Niossi could talk, she could've sung. As a young child, Niossi would be sitting in front of the television set singing and mimicking the vocals of the characters. At the age of four she started to play the keyboard with musical training from her father and Mr Mason, a known music teacher in Linden. She sang in Bethuel Gospel Chapel in her early teens.
Niossi feels her talent is genetic because of her father's musical interest. And her mother has always support her and her sister who is talented in drama. Her parents, particularly her father always encouraged her musical interests saying, "You can have any career you want [along with music]… a doctor or something else, because music never dies."
Besides her parents and the church, Niossi is inspired and motivated by local artistes Tennecia DeFreitas, Diana Chapman and Tiny Duggan
Niossi's taste in music is eclectic. She listens to and sings everything, particularly gospel and contemporary. Her interest in singing Calypso is simply to make a statement that the younger generation has the talent to bring it back. "Calypso is lyrically beautiful. It tells stories and sends out messages. It does not have to be anything too provocative but sadly Calypso is dying," Niossi said. "When young people come with it now we can call it a new face [and] I consider myself to be like a role model for the young; show them what they can do and how they can bring back Calypso."
She would like to see something more done to motivate young people to be interested in the genre. "They broadcast Soca live on TV, advertise it like nothing else," she commented. "Why can't the same be done for Calypso? They should make the same commitment to Calypso."
Niossi said she loved the experience; she plans on competing at the event every year until she is too old for the Junior crown and by then she will be experienced enough for the Senior Monarchy.
She is pursuing a seven-year programme to become a Child Development Mental Psychologist. She said that probably after her years of studying she will take up music as a part-time career but for sure she will compete for the Junior Crown until the age of 21.
Niossi, who is gearing up to perform tonight at the Semi Finals of the National Calypso Competition at the Mackenzie Sports Club in Linden, expressed thanks to Tiny Duggin and her mother, the Mingles Sound Machine, Ronnel Gonsalves, Lequita Price and her team for supporting her all the way.
Comments

GEMS Theatre Productions presents a new half an hour sitcom "Days Like Dese," a family-oriented comedy that surrounds the Rupauls, a middle-class Guyanese family.

Just three weeks short of the staging of the Miss Guyana Renaissance pageant, twelve ladies are kept busy perfecting dance routines, walk and speeches.

Twenty-year-old Keisha Brazh under the African name 'Serwah Mawusia,' is representing Ghana.

Put to task at the age of just ten to help to create the family's Christmas cake propelled Rabina Shivraj into a world of baking and decoration and today she has learnt the art of hooking her customers, first with her creativity and secondly with the taste of her creations.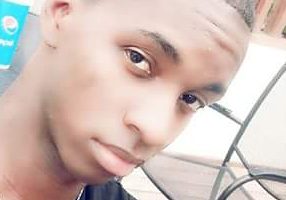 By Joanna Dhanraj With August fast approaching, the contestants of the Mr and Miss Guyana African Roots 2017 pageant are busy perfecting their skills for their big nights.