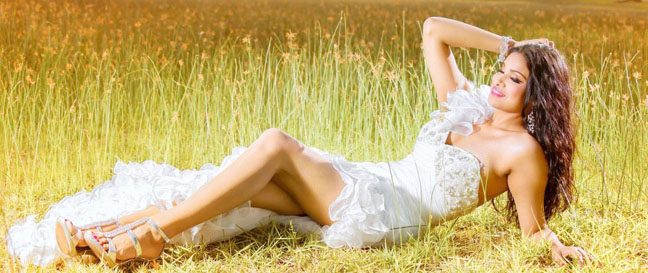 Beauty, elegance, poise, intelligence, humility and a charming personality are the attributes that Katherina Roshana possesses and will take with her when she ably represents Guyana at the Ms India-Worldwide pageant in Malaysia on April 27.
Katherina, who was preparing to leave the country today, took some time out of her busy schedule to sit and talk with The Scene earlier this week; sharing experiences from the time she was a shy little girl watching her siblings play outside to maturing into a phenomenal woman.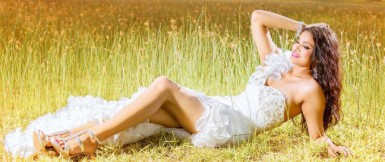 Born 23 years ago in Brooklyn, New York on March 29, she left the US as a toddler, moving to what she described as her one and only home, Guyana. She grew up in Atlantic Gardens, a small community on the East Coast Demerara with her two loving parents and three siblings, whom, she said, are the best friends anyone could ever ask for. She is the first daughter of local business icon and dramatist Roshan Khan; she has one older brother, a loving and supportive sister and a younger brother.
Katherina and her siblings are practically inseparable, but as a child, while they played outdoors she just with a book in a corner and watched them. It was not that she didn't want to play outdoors but she describes herself as one of the clumsiest persons ever, so it was simply a matter of necessity.
But she always found solace in reading, which allowed her imagination to soar.
She is a great lover of Shakespearean literature, fiction and motivational pieces; her favourite authors include Norman Vincent Peale and Deepak Chopra among others.
Little wonder then that the shy, clumsy Katherina grew up to be a dramatist, a spokeswoman, a model, a caregiver, an ambassador for peace and now the reigning Miss Guyana-India.
It would be improbable for a young girl who loves books to not excel academically. Katherina was described as the 'daughter of GIA' for having a special bond with her past school: the Guyana International Academy commonly called The American School, which she considers to be her second home. She attended the institution from nursery level up, gaining many accreditations throughout the years including the highly titled Ambassador Award. She later attended the New York College of Health Professionals where she studied Oriental Medicine, acupuncture and herbal remedies.
Katherina eventually grew tired of just sitting around and watching things happen. In high school, her English/Drama teacher encouraged her to start doing drama classes. The theatrical arts became like second nature to her and this, she said, helped her to be more outgoing.
She is a qualified model being accredited by the Barbizon Modelling Agency in the States. But her experience came from way back. At the age of 15, she was already strutting the local catwalks for Lynette Mangar's Exclusive Collection and Nanda's Boutique who practically opened the door of fashion and modelling to her. She is very thankful to Nanda who approached her and made her the face of the boutique for many years; she praises her for the exposure and experience gained.
Although she was never fully involved in Apsara she was observing the new pageant after the franchise for the Ms Guyana-India pageant was acquired.  There was an ad to apply to be the 2013 Miss Guyana-India and Katherina jumped at the opportunity.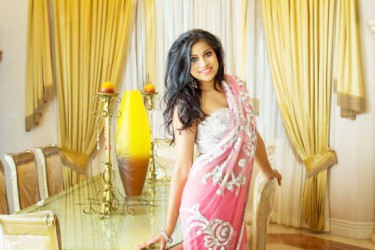 It was not a pageant, but rather a selection process, which was open to the public. Selection processes are said to be quite common and legal in the pageantry world and Ms Guyana-India actually held very few pageants in the past because of the expenses and huge organisation.
Katherina believes that because people did not get directly involved in supporting the contestants of their choice they felt robbed of their opinion.
"I have absolutely no issue with a selection. Many countries host selections specifically for this pageant. The winner before our very own Alana, Ms India-Worldwide 2011 – Ankita Ghazan of Australia – won her local pageant by a selection process," she said. "I understand from the general perspective that people want that personal touch in the pageant and selections take that away, but it was a fair selection and worldwide the selection process is legal in pageantry."
On February 9, in front a panel of six judges, 11 contestants were interviewed individually on their background, education, hobbies, arts and lifestyle before being asked to model an evening gown and an Indian outfit. At this point the 11 contestants were reduced to five who were asked questions to examine their intelligence. After such a heated discussion Katherina was announced the winner in front of the audience at the Princess Hotel.
She said the competition did not feel like a battle since all the girls were tested individually and not together. She said that everyone is always a little nervous and she was no exception having to face six judges including some fashion icons in Guyana like Sonia Noel. But this was short lived for her confidence stepped in. "I had to be confident, I wasn't going to back down," she said.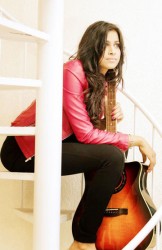 Many beauty queens use their crown for a year but for Katherina it will be eternal and serve as a guide for the many girls she hopes it influences in trying to better themselves. She describes the crown as the stepping stone for her to do better things not only for herself but also for Guyana. She plans on representing her title well and using it to do many more charity work in the future and even after her reigning year is up.
Her family supported her completely throughout and she gave ultimate credit to her father who will accompany her to Malaysia.
Katherina said she draws inspiration from Bollywood Superstar Aishwarya Rai-Bachchan whom she describes as a very graceful, yet fierce person. "And she knows just how to balance the two, that is something I try to be and I use those skills when I'm modelling," she said.
During and after her reign Katherina plans on reaching out to a few organisations like the Guyana Responsible Parenthood Association (GRPA), Senior Homes and orphanages, especially Joshua House in which she has developed an interest. This past Easter she invited ten children from the orphanage to fly kites and watch movies with her and her family.
One of her main focuses as queen is to show girls that they can be whatever they want to be. "I want to encourage and inspire them to do greater and better things," she said.
Katherina has her sight set on opening her own medical spa soon and if she wins the international crown she wishes that her modelling career picks up. She will be working with many more organisations and wants to join forces with local charities to promote medical campaigns. Apart from being our representative to the pageant, Katherina is also an Ambassador of Peace for the Universal Peace Federation based in Korea.
Around the Web