Rochelle Christie retained her Slam crown when the poetry competition came to an end last Saturday at the Theatre Guild, Kingston, while all of the performing poets brought their 'A' games with their exhilarating, charismatic pieces.
Rochelle, also known as the 'Shakespearean bottle of red wine', was up against Yerredin Akeel Bowen, Randolph Critchlow, Salimah Husain and Latoni Beaton and the prizes were shared in that exact order.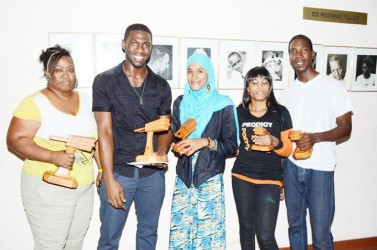 Rochelle swept the title and $100,000 first prize with her piece titled "Unedited". Yerredin's "Mighty Pen" earned him $50,000; Randolph was an "Angry Man" and earned $25,000 for it. Meanwhile, Salimah's piece focused on human loss among other issues and earned her $15,000, while Latoni took $10,000 for her performance of "The Webb".
The show commenced with the singing of the national anthem followed by opening remarks from Yaphet Jackman. The audience was then treated to a mind blowing performance by young rock group, which set the perfect atmosphere for the competition.
As the final scores were being tallied patrons were entertained by the Dewars; a young group of musicians who go by the name, Collage; Ryan Hoppie, a contestant in the GT&T Jingle and Song competition; DJ Slimma and Mario Punch.
The semifinal of the Slam Poetry competition was held on April 2, at the Upscale Restaurant and Sports Bar and saw 11 poets competing. But it was Randolph who stole the show that night with his piece entitled "I Fell in Love with a BBM Chick". He had the ladies blaring at the top of their lungs.
In an exclusive interview with The Scene, the show's moderator Yaphet said that 'Poetry Night' has been in existence for over 11 years. He said Slam was last held in 2009, where Rochelle emerged as the winner.
Yaphet said Slam has been in existence since the beginning of poetry night, but it was periodic; not an annual event.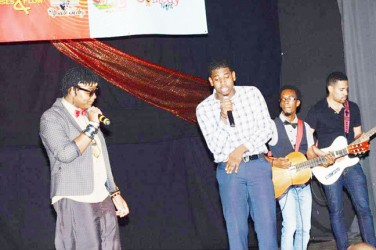 With the atmosphere of poets battling each other, using words, emotions, massaging the audience with their mastery of spoken poetry having them at the edge of their seats, Yaphet said, that is how the competition got the name Slam.
Meanwhile, he extended an open invitation to 'Open Mic Night', where persons from the audience get to share their poems – whether an original piece or something written by someone else.
Poetry night is held at the Upscale Restaurant and Bar at Regent and Hincks Streets on the first Tuesday of every month at 7.30pm. This event is sponsored by Digicel and more sponsors are encouraged to get on board.
Persons can keep track of events by liking 'Upscale Poetry', at Facebook.com/upscale poetry or by adding the BBM pin 2320D501.
Around the Web