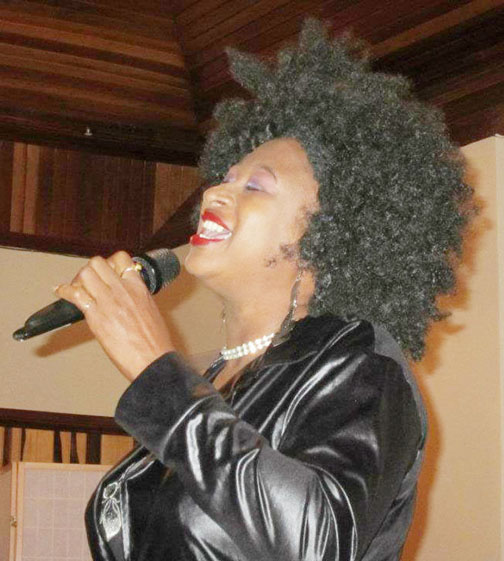 Charmaine Blackman is a name that is known in every Guyanese household. Her seat on the judging panel of GT&T's Jingle and Song Competition is possibly the most viewed as persons seek to discover 'what Charmaine is wearing'.
Her sometimes outlandish costumes draw commentary, both good and bad, but Charmaine feels, "you need to stand out as a musician – you shouldn't be on stage looking like everyone else…" Charmaine says she has had costumes and pieces to help make her mark as an artist since 2008.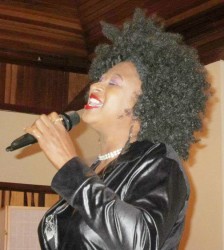 The Guyanese diva, who is currently working on releasing two new singles with upcoming videos, is one half of a dynamic music/drama/film production duo. The other half is her husband Bonny Alves and together they own Ssignal Productions.
Newly-wed—their wedding was on March 2 this year—Charmaine and Bonny have been a couple for as long as anyone can remember. "The marriage was long in the making," she says. "We should've been married about five years earlier."
Charmaine is the more active artist in the duo, in that she still performs; while her husband is more behind the scenes, in music and film production.
Asked about a drama career, Charmaine says this is one job she is "shying away from" since she doesn't fancy herself an actor. She is more of a producer when it comes to drama. "Producing is a hard job because you have to be intimately involved with the script, the requirements and the fulfilments of all the obligations that the film requires. You must always make the director comfortable; the producer needs to find everything that is needed and at the end of the day be pleased at the outcome." Charmaine was involved over a four-month period with drama production through workshops hosted by Merundoi. She and her husband are part of CineGuyana.
Judging the GT&T Jingle and Song Competition is her most current project. She shares the judging panel with Gordon Moseley, Sean Bhola and Joel Ghansham. She considers Sean to be best qualified of the four when it comes to music since he has been singing before her. During that long time he picked up a lot of experience as a musician which makes him fit to be the Chief Judge. Charmaine says she loves working with the team, especially Joel, who she describes as jovial and fun. "We each add our own identity, our own style, our own cut to the production – everything was different this year."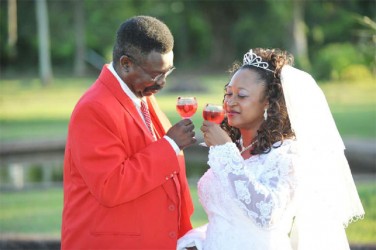 Charmaine, who started out as a dancer, came to singing, like many other artistes, by way of the church. This Scorpio-born songstress grew up under a protective mother and with a strict schedule in Georgetown and later the West Bank Demerara with her five siblings. She is the penultimate child of her parents' and although she grew up knowing her siblings, they were not really close to each other until adulthood.
As a child she had one routine: School, home, church, dance, but dancing was the excitement of her day. "I loved to dance. I thought it was something good in all its forms," she says.
Although she always sang in the church's choir it was not until the age of 17 that she really took singing seriously. It all began at the Blue Mist Competition—the Blue Mist was a club on Regent Street which had an annual talent competition. She went there with her dance group to perform but after a mishap was chosen to sing instead. "It was an accidental happening," she said, "but from then on it [music] was something in me to learn." She went on to say that during her time in the church choir she learnt many musical arrays subconsciously but after the competition she took it seriously and began to start learning the art.
Prior to the competition, young Charmaine did not even know about Guyanese musicians since she never went to any parties, concerts and other functions. Her mother listened to a lot of radio since in those days they did not have television and it was through radio that she developed a love for the musical styling of Mahalia Jackson.
But Charmaine's musical taste is eclectic. "I listen to a lot of people I do not have one favourite. I love a lot of people for various reasons," she says.


It follows that her music would be just as varied. From Calypso to Soca, Jazz to Reggae, she has sung it all. But R&B is where it started. She says that when she began to branch off into the different genres of music, people were not pleased and requested she stick with R&B and Jazz. But she notes that as a member of the Yoruba Singers it was necessary for her to sing all sorts of styles. The Yoruba Singers is known around the region for folk songs but it is not unusual for the group to perform a diversity of music.
Embracing of African heritage is another brand that comes with the Charmaine Blackman trademark. Charmaine expressed that she started wearing African clothing because of the Yoruba Singers. "Being a member of the group guided me in that direction. That was not part of my growing up…," says Charmaine, adding that she comes from a multi-ethnic family.
Her husband also embraces his African identity by wearing cultural clothing.
Now a solo artist, her hits include "Don't Disrespect Meh" which is a Guyanese favourite for all sorts of reasons. It was written and produced by her husband.  The song, she said was taken from an outside view and does not necessarily reflect her personal views. "We're in a society like that, so it was easy for him to write something like that," she says. She is also known for: "Raise Your Hands for Jah", "Wata Come to Meh Eye", "Taxi Driver" and "Gie Dem Moh Fuh Talk".
She even produced a rock album, 'Changes' back in 2010 with its contents played overseas in Costa Rica and the United States. She performed Reggae live at a rock concert in Costa Rica to promote the preservation of the environment.
To date Charmaine has performed in over 24 countries. Her biggest stage event was performing at the Millennium Concert with Eddy Grant in Tobago, an event that was broadcast live and viewed by some 2.5 billion people.
But for all her accomplishments, she says that her best work just hasn't come yet.
Meanwhile, Charmaine says she has practically no social life since being social is her job. Her professional life in one word is "hectic". Fortunately, her husband understands and is supportive. "We do the same things. We're in the same careers… It would have been hard if it wasn't so. He is very supportive because we do a lot of things together and he understands," she says.
Around the Web