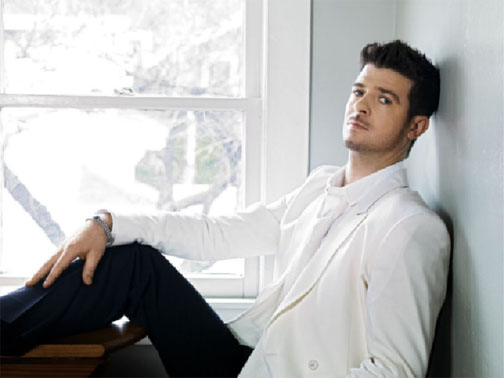 (Billboard) – Robin Thicke breaks into the top 10 of Hot R&B/Hip-Hop Songs as "Blurred Lines," featuring TI and Pharrell, leaps 16-3 in its eighth week on the list. The song's impressive rise is aided by performances by Thicke on the May 14 episode of NBC's "The Voice" and "The Ellen DeGeneres Show" (May 16). The appearances spur a 204% increase to 206,000 downloads, according to Nielsen SoundScan. Concurrently, "Blurred" moves to the top of R&B Songs (6-1), displacing Justin Timberlake's "Suit & Tie" which had led since the Feb 23 issue. (The song ruled the chart for 15 cumulative weeks.)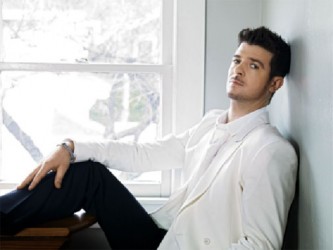 The 16-3 lift on Hot R&B/Hip-Hop Songs marks Robin Thicke's fourth top 10 on the list and first since "Sex Therapy" posted two chart-topping weeks in 2010. His first top 10 track was the smash "Lost Without You" which notched 11 No 1 weeks in 2007, the longest tenure at the penthouse that year. His 2008 hit "Magic" peaked at No 8.
Macklemore & Ryan Lewis continue their chart dominance with "Can't Hold Us," featuring Ray Dalton, and "Thrift Shop," featuring Wanz, retaining the Nos 1 and 2 positions. While "Can't Hold Us" is in its 5th week atop the list, "Thrift Shop" picks up a 27th top 10 week, second only to the 28 weeks posted by Maxwell's "Pretty Wings" (2008) and Miguel's "Adorn" (2012-13) in the Nielsen era.
Drake's "Started from the Bottom" slides 3-4 in its 15th week while Mariah Carey's "#Beautiful," featuring Miguel, skips 7-5 in its third. "#Beautiful" is the week's airplay gainer with a 33% increase to 41.5 million listener impressions in the May 15-21 tracking period, according to Nielsen BDS.
J Cole's "Power Trip," also featuring Miguel, slips 5-6 as Justin Timberlake's "Suit & Tie," featuring Jay-Z (4-7), and Lil Wayne's "Love Me," featuring Drake and Future (6-8) tumble as well. And Emeli Sande's "Next to Me" (8-9) and Wale's "Bad," featuring Tiara Thomas (9-10), each fall one position to close out the top 10.
Over on Top R&B/Hip-Hop Albums, rapper Eve returns with her first album in over 10 years as 'Lip Lock' opens at No 7 with 9,000 copies, according to Nielsen SoundScan. The debut marks her fourth top 10 title and ends her streak of consecutive chart-toppers at three. As a member of Interscope's Ruff Ryder imprint and subsequent crew, Eve posted No 1s with 'Let There Be… Eve – Ruff Ryders' First Lady' (1999, four weeks), 'Scorpion' (2001, one) and 'Eve-olution' (2002, one).
Recapping the top five albums on the list, Justin Timberlake's 'The 20/20 Experience' posts a seventh No 1 week with 44,000 copies (down 34%) as Macklemore & Ryan Lewis' 'The Heist' reclaims the No 2 spot with 26,000 (down 11%). Lil Wayne's 'I Am Not a Human Being II' steps up 4-3 despite a 16% drop to 15,000 and Fantasia's 'Side Effects of You' slides 3-4 with just under 15,000 (down 33%). Rihanna's 'Unapologetic' closes out the region staying put at No 5 with 11,000 copies (a 22% decline).
Comments

At nineteen, Daniel Ifill is not just an ordinary teenager still trying to figure out a career but rather he is miles ahead as he is already a dancer, model and makeup artist who when he's not working his skills backstage on some performer's face is flaunting his stuff on a stage he takes charge of.

Young ladies from the ten administrative regions will today be sashed at the Everest Cricket Ground in anticipation of next Saturday's crowning of a new Miss Indigenous Heritage at the National Cultural Centre.

Tomorrow evening talented youths from the deaf community will take to the Theatre Guild stage in an evening of entertainment where dances, drama and fashion will be featured.

Craft artist and designer Natasha David has for almost a decade now been creating unique jawdropping pieces made mainly of natural materials which many would discard never dreaming that they could be used to create art.

Guyanese Paulla De Souza, who is touted as one of the Caribbean's and South America's most sought-after make-up artist (MUA), is scheduled to be in Guyana for a Beauty Empowerment Celebration on September 24, aimed at giving women the 411 on how to effortlessly look chic and gorgeous.