From Georgetown to St Lucia, Tobago, and Barbados, Atlanta, New Jersey and New York, fashion designer and entrepreneur Sonia Noel has been making the rounds with her magazine makin style, and her new line First Resort.
And she's not done yet. First Resort takes the stage at French Guiana Fashion week this very weekend and Sonia sets her sights on Suriname, Guadeloupe and Trinidad for makin style and First Resort launches after showcasing at the celebration for Guyana's 47th Independence on Friday June 21, at the Brooklyn Borough Hall in NY.
Seemingly tireless – no one has ever seen Sonia looking less than her best or without her trademark wide smile, she is already planning the second issue of her magazine and organising Guyana Fashion Week 6, which is scheduled for October.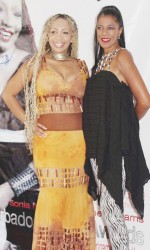 Following her local and Caribbean launches, fortune favoured Sonia as she was able to tap into annual celebrations in the US: Memorial Carnival weekend and the celebration of Guyana's 47th independence in Atlanta; Guyana's independence flag raising in East Orange New Jersey and Caribbean Heritage Month celebrations in New York.
According to a press release, the Atlanta launch provided a great networking opportunity for Sonia and she expressed gratitude to Marilyn Brown who serves as the vice president of the Guyana Atlanta Association for her organisational skills.
In East Orange, Sonia was able to meet former mayor Robert L Bowser, Bayney Karran, Guyana ambassador to Washington and Allison Butters Grant Co-founder and Executive Secretary of Guyana -American Heritage Foundation Inc among others.
The release said the New York launch brought out such stalwarts as Sonia's team leader Lorna Welshman-Neblett; Edmon Braithwaite; Tangerine Clarke; Rose October-Edun; board members of the Guyana Cultural Association of NY, Ave Maria Brewster, Clair Patterson-Monah; Guyana Tri-State Alliance's Pat Jordan-Langford and Miss Guyana World 2011/12 Arti Cameron.
Hosted at the Vodou Lounge in trendy Bedford-Stuyvesant, Brooklyn by Elton Washington, the event also saw Johnson Johnrose of the Caribbean Tourism Organisation which was hosting its series of events celebrating Caribbean Heritage Month; Sandra Velasquez of Valesqiez Productions and her models; Brazilian model Bruna Gomes; FIT Professor Steven Cutting; Bobby Vieira; Bennie Parasram; Lydia Patel host of What's  up New York and Lydia Patel TV; Amelia Moore of All in a Day with Ameliaismore; Floss TV and BronzeMagonliine.com and Patricia Trim of Tots and Teen TV Show.

In Guyana, makin style is available at Sonia Noel Designs Barr St Kitty, Giftland OfficeMax, Germans Restaurant, Milady's House of Beauty, Water Chris Hotel, Williams Supermarket in Bartica, Community Pharmacy in Grove, Gordon's Stationary in Berbice, Major's Sports Complex in the LEAP building in Linden and Global Exchange in Diamond.
In Tobago it can be found at Chocolate Trousers; in St Lucia at Sunshine bookstores countrywide and in Brooklyn NY at Pam's Bakery.
Part proceeds from the sale of the magazine go to the Sonia Noel Foundation for the Creative Arts.
Around the Web