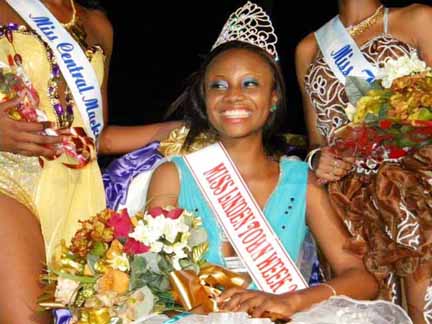 The Miss Linden Town Week pageant has been over for more than a month, but catching up with this year's title holder seemed as arduous as traversing all the hills and valleys of the mining town. Latisha Phillips of Blueberry Hill was certainly a busy young woman, but pleasant and unpretentious. It was immediately clear why she had won the pageant, even though she had no prior experience.
Latisha was minding her own business when she was approached by Shellaine Barker and Alicia Loncke, the trainers of the pageant, and invited to enter. Flabbergasted at first, she was very hesitant to accept the invitation. However, her friends and family kept pushing her to do it and today, she is happy they did. "I thought that maybe I could benefit from the experience… instead of just watching and criticising the young ladies who are bold enough to enter. I really wanted the thrill and experience," she shared with The Scene.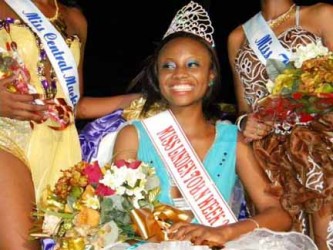 Though green at pageantry, Latisha is cousin to Odessa Phillips, Miss World 2002 and Miss Guyana Universe 2004. She says the height, body structure and smooth complexion comes from her father's family tree. "I am one of the fruits that caught it," she joked.
She looks up to Miss Guyana Universe Ruqayyah Boyer, a fellow Lindener. Ruqayyah is one of a long list of professional models that Latisha looks up to and adores for their poise. Her mother also serves as a role model. Latisha says her mother has the ability to be a fighter and yet stay calm. "People say we are very much alike," she said. "So I decided that I will be determined because I wanted to make her proud, to let her be able to say 'I always told her she can be a queen'."
Latisha recalled how tense she was at first. The only person she knew was her close friend Kimberly Elexey who placed second runner-up.
But before long, she was acquainted with everyone else and tried to avoid any conflicts since it was her first pageant. She expressed that she is jovial by heart and used this to seal many friendships with the other contestants; she took the opportunity to learn from them.
"If I had to do it all over again I surely would," she said. On pageant night, she said, she was very nervous. But "I just went and did what was rehearsed but with a little more Oomph! I went with the flow and during different segments came out and did what I had to do." There were moments when things looked dull, such as the segment where she wore a simple black dress, while the other girls came out in costumes of sparking designs. "I just stood there thinking how I'm losing so many points!
"The funniest part for me though was when my name was called for the 'Final Four' and I stood there for a few seconds looking dazed. From that moment my heart was in my mouth."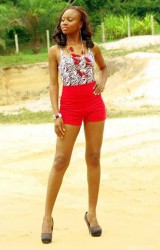 But then things just turned around. "My proudest and most reliving moment of the evening was when I answered my question, that is when the entire crowd started cheering and I got my confidence back. That was my happiest pageant moment," she said.
And that confidence saw her taking home the crown, a Jialing motorcycle, a pair of earrings, a gift set, a weekend at Splashmin's resort and the right to be Linden's queen for a year.
So just who is Latisha Phillips?
She was born on June 26 1994 at the Mackenzie Hospital, Linden to Desryn Pollydore and Charles Phillips. A middle child, she grew up in Georgetown before migrating back to Linden while at St Joseph High to complete her education at Mackenzie High. She has been living in the town ever since.
Latisha says hers is a close family. Her mother is hard working and dedicates her life to her children.
She said she is proud of and thankful for her stepfather, Jeffrey Layne. Latisha has a close relationship with her older sister, Latoya Williams but describes her younger sister, Latifa Phillips as her best friend.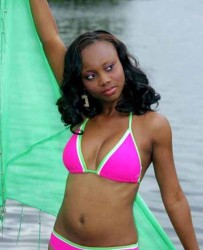 As a child she was quite the bookworm, but couldn't wait for the July-August vacation season when she would travel to Linden to visit her aunt Denise, her cousins and the countless excited youngsters that resided in the area.
This time she said holds a lot of great memories, as "we would play whole day and worry about nothing."  When she wasn't studying, or sleeping, they played games like 'Saul out' and hopscotch. But when September came it was back to Georgetown and back to the books. "I spent most days indoors as it was only books, books and more books. I studied a little but thanks to reading a lot I was always a fast learner," she said.
She mentioned that she tried not to miss the Oprah Winfrey show and enjoyed watching television on the weekends when she had no assignments to do.
At school she got involved in extra-curriculum activities such as dancing, poetry and debating.
While moving to Linden was a bit of a challenge she soon overcame it. She met some wonderful friends and now she describes Linden as her home and her paradise. "God knows I love my Linden," she said.
Latisha is currently learning Portuguese and come September hopes to begin tertiary studies in Communications or Internatio-nal Relations.
Around the Web