"I stand before you as a testimony that little small-town girls can have dreams and pursue them and make them a reality. I stand here beaming with pride, just as I felt when I presented on Caribbean fashion development, at the prestigious Ivy League Brown University, not only as passionate fashion practitioner but as a daughter of Guyanese soil and a true product of my nationality." – Sonia Noel
When it came to Guyanese fashion, Sonia Noel stole the show at what was dubbed the 'Grandeur' Fashion event at the recently concluded Carifesta XI in Suriname.
Held at the Royal Torarica Hotel, Paramaribo, a lineup of fifteen hand-picked designers from
Suriname, Trinidad, St Lucia, Belize, Haiti and Guyana presented their designs to the cultural attachés, fashion cognoscenti, culture buffs and creative arts enthusiasts from around the region. The show presented the widest assortment of couture apparel from bedazzling accessories to bohemian bags, from architectural hats to avant-garde garments, from ethnic designers' couture to exotic hand-painted textiles, but eyes were on Guyana as Noel brought it! Along with her collection, handbags by local designers Louise Jordan and Cob Leather craft were featured.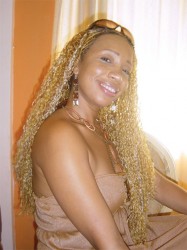 Asked for a comment for The Scene, Noel said, "The response in Suriname at the Carifesta events has been tremendous from so many people from different countries. My showing at the Grandeur Fashion event was one of my best presentations and the audience responded from outfit one to eighteen. It was a great feeling to be reconnected with so many of my Surinamese who supported me years ago."
Sonia Noel stood proudly as the eye-catching designs of the Guyanese labels 'Mariska's Designs' and 'First Resort' hit the runway with a selection of her fabulous latticing, her perennial ponchos, her branded bustiers and her distinctive dresses, all celebrating her signature style. To top it off she incorporated the launch of her magazine, Makin' Style, at the affair.
The spotlight shone on Noel as she was called by the Master of Ceremony to present herself after her fashion display. The style maven rose to the occasion and took the opportunity to tell her story, her Guyanese biography and about the beauty of the country that inspired her – a story which she revelled proudly. Noel encouraged the audience to take an interest in Guyana and the potential of a vibrant fashion industry in a country that can inspire the world.
She was also escorted after her collection by former model search winner Jamain Victor who sported body paint by Bravo Arts of the Carifesta and Caricom Logos.
Noel's booth at the Grand Cultural Market and Trade Fair was flocked with Surinamese as they expressed interest in buying her unique designs. The Makin' Style magazine which was distributed free-of-cost was also a huge hit. She was one of the presenters who represented Guyana but was independent of the government-sponsored delegation.
As if Guyana was not highlighted enough at the festival's fashion events, the Icana Boutique in Torarica Hotel had the First Resorts line in stock and copies of the Makin' Style magazines. Noel's designs were also selected to outfit the closing ceremony's hostess Lygia Sherida Amania and popular media personality Odette Miranda.
"This entire event is even more special because I share our Caribbean aesthetic with my regional Creative Arts peers as I salute the mission of Carifesta XI, Culture for Development" Noel said.
Around the Web