If it wasn't proven before, designer Nelsion Nurse last Sunday evening proved that his métier is fashion when he won the design competition at the 'Still Waters Run Deep' event at the Seven Ponds, Botanical Gardens.
The Guyana Fashion Week executive chose that forum to close its commemoration of Water Week, in which it had partnered with the Ministry of Natural Resources and the Environment.
Dance, spoken word, photography and fashion were the art mediums chosen to raise awareness of the potential crisis of water.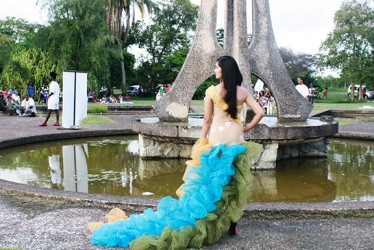 Following a dance presentation, which was not judged, the finalists in the
spoken word competition made their presentations. In the end, Randolph Critchlow emerged victorious beating Mark Luke Edwards, Towana Wilson and Jo-Ann Forde in the process. These competitors were outfitted by designers Nelsion Nurse, Wynette Jones and Sacha Castello.
Mark Jacobs' photograph, 'Leap of Faith' won the photography category. Dionne Shepherd-McKenzie's 'Port for a Storm' was the first runner-up followed by Tracy Douglas's 'On the Brink' and Juliana Douglas's 'No Boundaries. There were eight photographs in the final.
Meanwhile, finalists in the design category were Juliet Bernard (Crystal Mud), Tyrone Nelson (Visions of the Deep), Amanda Burgess (Body of Water) and Denita Prowell (Water Universal), along with Nelsion Nurse (Sunset Glory), the eventual winner. Some 20 designers entered this competition.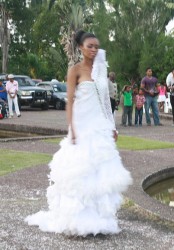 The organisers thanked Courts, Digicel, Trophy Stall Bourda Market, Baganara Resort, Water Chris, Banks, Miladys House of Beauty, Healing Water Spa, Jiva Spa, Mariska Designs, Deandre Creations and Golo Fabrics Stabroek Market for providing the prizes for the winners.
The MC for the event was Russell Lancaster and it was directed by Richard Young. The judges were Jennifer Thomas, Russell Lancaster, Ras Michael, Richard Young and Sonia Noel.
The next big event, Guyana Fashion Week, will take place at Rahaman's Park from October 20 to 27.
Around the Web