In a prelude to Guyana Fashion Week (GFW), designers Sonia Noel, Gem Fraser and Myrna Patterson showcased an array of fashion at the Toast of Brooklyn— A Wine and Food Festival 2013 recently.
According to reports, models from Guyana, Trinidad, Jamaica and New York, including Miss Guyana World, 2011, Arti Cameron who is the official face of GFW 2013, graced the runway for the occasion.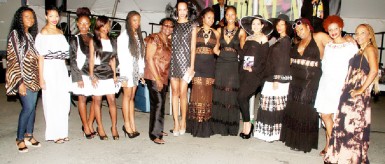 As a highlight, one of Guyana's veteran, NY-based journalists —Tangerine Clarke— graced the stage in outfits by Sonia Noel and Myrna Patterson. Another highlight of the fashion show caught the audience by surprise when the lead musician of the Jeff King band descended to serenade Arti Cameron on saxophone with a breathtaking performance.
Allison Skeete hosted the fashion portion of the event, Lorna Welshman-Neblett was the organizer-in-chief, and Philippa Morrish and Paul Burnette kept things running smoothly backstage.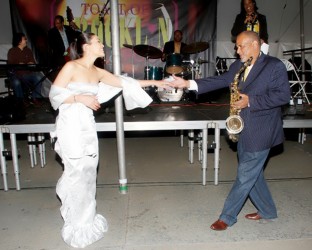 Meanwhile, GFW activities include: Furniture is fashion – Courts Fashion/Furniture Event on October 18 at Courts Guyana (Main Street, Georgetown) at 4 pm; Cuttin' Style – fashion, food and fusion music at Rahaman Park on October 20 from 7 pm; a photography workshop and performing arts showcase on October 21; wardrobe coordination workshop on October 22; business of fashion workshop and aspiring designers  showcase on October 23; runway collections on October 25; self-esteem workshop and runway collections on October 26 and the final runway show on October 27.
Persons interested to be part of these workshops can register at the Barr Street office 2263099 Email guyanafw@gmail.com .Tickets for the show go on sale from Monday.
Around the Web