Keisha Edwards started designing and sewing her own clothes in order to guarantee that when she stepped out she wouldn't look like anyone else. That was towards the end of her high school days. Today, her ShaSha Designs have made it all the way to the White House and she hasn't even peaked yet.
This past June, Keisha along with four other Caribbean designers had the opportunity to display a piece at the White House in Washington DC to commemorate National Caribbean American Heritage Month. Later in that day two pieces from her Shade collection were displayed at the Barbadian Embassy in Washington. Keisha was in DC for an award ceremony and was also invited to the Caribbean Style and Culture Fashion Show.
In August, ShaSha Designs' newest summer pieces were at the Wine, Dine and Shop in a Dress event held at the Pegasus Hotel. In December, she will be collaborating with Pieces & Things on a Fashion Show titled Bits and Pieces.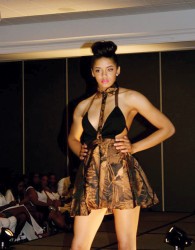 The 27-year-old Virgo-born designer describes ShaSha Designs as a mixture of traditional rock meets modern wear. ShaSha Designs debuted at the 2008 Guyana Fashion Weekend where its collection, Infusion, was received with rave reviews. That led to another participation in the show in 2009.
By 2010, Keisha was ready to handle her first fashion show. Fierce Expressions, was held on May 1 2010, 2011 and 2012. This year, overseas commitments broke the streak.
Keisha says her focus is to create unique, comfortable and affordable clothing for everyone. Eventually, she sees ShaSha Designs readily available in stores, easily accessible to the customers.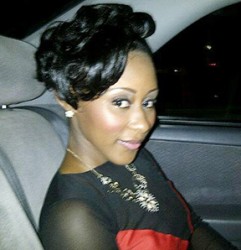 She describes her art as the creation of unique garments. "Fashion designing makes me feels alive… It fills my life with purpose because I get to do something that I love every day I get to help others to express their emotion or personality through the clothes they wear. When people look good they feel good so I get to make others happy and that makes me happy."
As a child she would be eagerly sketching outfits and designs before begging her mother, who comes from a long line of seamstresses, to make them.
Keishsa says her skill is God-given and hereditary.
Religion has always played a major role in her life. Growing up, she says, her family's decision making processes involved the use of Christian ideologies and for as long as she
can remember she was taught that anything is possible through Jesus Christ.
Keisha grew up in North Ruimveldt and East Ruimveldt with seven siblings. She says she always found comfort and friendship in her siblings but living in the same house with them dictated that she had to have a "tough skin" because "you get teased mercilessly". Game times were filled with basketball, sal out, dodge ball, jumping fences and climbing trees to pick juicy tropical fruits. Her parents insisted on education and extra curriculum activities so at a young age Keisha was enrolled in dance school and swimming classes while three siblings were in karate and swimming as well.
She sums up her family as simply amazing and irreplaceable for their support and belief in all her endeavours, including fashion.
In her pursuit to further develop this art she attended the Carnegie School of Home Economics where she attained a Certificate in Dress Making. She also graduated with a Diploma in Social Work and a Degree in Sociology from the University of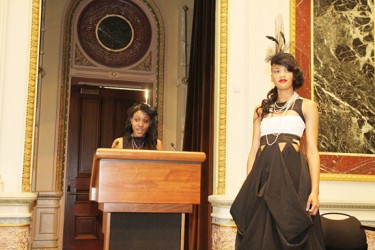 Guyana.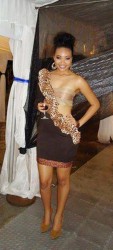 "I am motivated by life, struggle stories that become success stories. My family has always been a hub of support and encouragement; also my closest friends Kateri and Aleysha (also Team ShaSha) have supported me from day one and believed in me and my dream on days that I didn't even believe in myself or my dream. They are my backbone and they keep me grounded, and I cherish this amazing support system." She went on to say, "I'm inspired by life; God uses everything in this world as a medium through which I can draw inspiration from. Without God there would be no ShaSha Designs."
While growing up she was fascinated with the dressing style of the Commodores, Michael Jackson, Madonna and Joan Jett. She loved the sparkles, leather, spandex, neon and each of her designs reflected their personalities. She said she always wanted her designs to embody that – the styles influenced by that specific era.
One of her favourite current designers is Alexander McQueen. "I admire him because he pushes the thresholds; there are no limits to his creativity. He challenges the laws of fashion with every piece from his corseted silhouettes or his elegant gowns created from feathers or done in fresh flowers. Most importantly I love his incredible attention to detail and tailoring – his designs are wearable art. That is the key in this industry," she said.
Keisha is thrilled that one of her designs, a cocktail one-sleeved dress worn by Timeka Marshall at the 2011 Barbados Music Awards became one of her most asked for designs. She said she subsequently produced 20 versions for various customers over a period of six months from the time the outfit was worn by Marshall.
Keisha sees herself promoting her art at more fashion shows across the Caribbean, Europe and North America and "God willing" having her own store one day.
She says she will continue to work hard at what she does and keep bettering her designs. "I do believe that all designers are ambassadors of the country they are from… so, wherever my art takes me I will always pay homage to Guyana, and let people know that that is the country where my art was developed and nurtured," Keisha says.
Although she designs fashion for all ages, she has a particular interest in targeting women and men between the ages of 16 and 36 because, according to her, studies have shown that people between those ages are social and would desire fashionable pieces the most.
Around the Web