Deaf Expressions, produced by Deaf Theatre Guyana, is on at the National Cultural Centre tomorrow from 5 pm.
According to a press release, Steven Gore from Antigua, who is not deaf, met a Deaf Theatre Guyana team at Carifesta 11 in Suriname and they just "hit it off". Stephen was then invited to perform at the Deaf Theatre Guyana's annual signature performance. His attendance was made possible through the kind sponsorship of Caribbean Airlines.
Meanwhile Deaf Expressions will feature dance items choreographed by Esther and Jonathan Hamer, Linda Griffith, Jenel Bishop, Okolo Eniss, Makisha Correia and others. The Diamond Drummers, directed by Mark Cyrus, will be at their best, as usual. Shonette Belgrave will do two of her moving dramatisations: "Story of Creation" (a repeat, by popular demand) and "You have to be deaf to understand", a poem by Willard Madsen, a deaf writer. There will be two very special programme items: an interlude with fashion from Sonia Noel's designers (modelled by deaf performers) and a guest performance by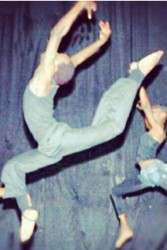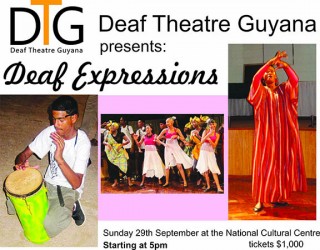 The release noted too that the British High Commission in Guyana has assisted financially with the staging of this and last year's show.
Around the Web