Analisa Andrews, the representative of Region Five (Mahaica-Berbice) is the new Miss Amerindian Heritage having defeated nine other contestants from the various other regions in the country.
Analisa will hold this title for the next two years and she plans on using it to promote the development of Amerindians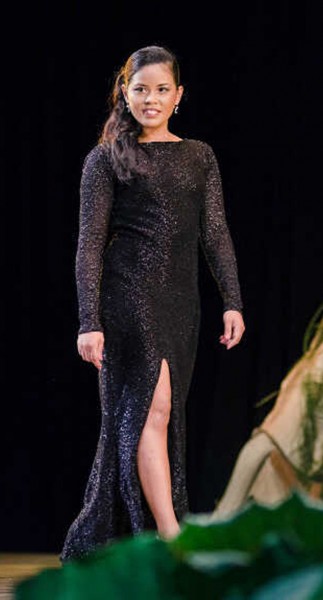 around Guyana and to influence the youth she comes into contact with so that they can be not just what they dream of, but better.
Analisa loves swimming, socialising, learning new things, playing cricket and listening to music and she revealed in an exclusive interview with The Scene that her favourite film is Unthinkable and her favourite song is "Wake me up When September Ends" by Green Day.
The pageant
Asked what motivated her to enter the pageant, the 21-year-old beauty revealed that she had been approached since 2009 to enter, after two of her sisters competed in 2005 and 2007. She had previously gained pageantry experience while attending the Mahaicony Secondary School.
However, she was not available in 2009 nor in 2011, but decided this year she was ready to be an influential figure for her region and possibly Guyana.
"This year I saw it as an opportunity to change my life," she said after telling The Scene that she had come to the city in 2009 and was influenced by negative peer pressure for a while, before she decided that there needed to be some serious changes in her life.
"Now… I can use my experience to go back to the villages and speak about education… empower them in many ways to make the right decisions. When someone uses a real-life experience it tends to get more attention," she said.
Analisa is part of a young non-governmental organisation (NGO) aimed at empowering Amerindians in the various regions through culture, sports and education. The reason she joined the NGO was because its goals and objectives were similar to hers – helping Amerindian people progress and show their worth in society.
Members of the NGO encouraged Analisa to enter the pageant so as to use the platform to influence more than just her community. She said, "I kind of have a passion for that [influencing people]… I grew up with my two small sisters so caring and helping others [is not] strange for me… convincing someone to believe me is not a hard task to do."
She looks up to her father for his ability and commitment in building the small settlement into a respectable village that is now known across Guyana. "I saw him change my village, Moraikobai… change it in a good way, where he built that village to a standard that it was highly recognised by others…," she said. "He didn't get paid, he just did that because he loved helping people [that is] his passion. So I can say I got that from him."
She said that the pageant experience was one that she would always cherish because of the socialising with fellow contestants, and different people, going to places and learning new tribal cultures. "I got to learn so many new things that I will take back and teach my sisters and other people that I can reach out to," she said.
Analisa plans to encourage girls to be part of the Amerindian Heritage Pageant so that they can also have the same good experiences she has had.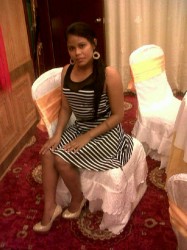 Manners and etiquette were parts of the training which she found intriguing. But a lesson she will always remember is how to ignore certain things in life; relax and be calm. "Even though I had manners, when something irritated me I tended to get vex and so," she recalled. "This pageant taught me that I should ignore, relax and smile. Not everything can go in your way… One of the coordinators taught me that when you're disappointed, you should smile and then move on because what happened is exactly what should've happened. Today you might not see it but days and weeks from now you'll see that it happened for the best."
Her platform during the pageant and her main goal during her reign is youth leadership development in Amerindian communities. "I chose that platform because it has a connection with the NGO that I am part of. Youth leadership is when youths have authority over themselves and others. In that way it's a spark of the development process because elderly people tend to think that youths don't have the capabilities of being leaders," she said.
She added that it is her goal to educate these youths and motivate them to be greater than their initial aspirations. "Youths tend to think: Well okay, I want to become a qualified teacher. The idea about it is just don't be a qualified teacher… be a headmistress or a headmaster. Don't aim to be a nurse – be a doctor. And instead of being a minister why don't you try to be President? Lead by example," she said.
One of her most memorable occasions during the pageant experience was lying in a room with all the contestants, where they laughed and made jokes with each other about themselves.
On the day of the actual pageant, when she expected she would be a nervous wreck – she wasn't. But never in her dreams did she imagine she would win. "I saw others like Ms Region Eight and Ms Region One as very competitive and I didn't have the confidence that I would win over them. It was a surprise on stage and still a surprise now."
Analisa was awarded a trophy, a BlackBerry phone (donated by GT&T) and a trip to Kaieteur Falls.
Growing up
Analisa was born on September 3, 1992 in a small village on the Amakura River which borders Venezuela in the North West District. At the tender age of three, she, her parents and four sisters left with practically nothing and migrated to the Mahaicony region where her father worked very hard to provide for his family. He eventually became the Toshao and served in that capacity for nine years.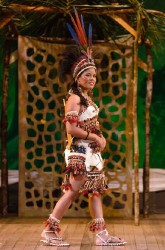 She said even though her family grew up poor and moved with nothing, they made a comfortable living as her father built a home and provided for them without complaint.
As a child she would often be seen playing with a group of boys which landed her in a lot of trouble. She preferred the company of boys to girls because they could do things girls didn't find interesting, like climbing trees, running in the rain and playing with marbles.
Moraikobai was very peaceful and not exposed to much, something as simple as a car would be a shock to see when she visited Mahaicony. And when she travelled to the city it was always a confusing place. This gap between the hinterland regions and the city is one that she said needs to be closed.
After attending Moraikobai Primary school, Analisa went Mahaicony Secondary where she stayed in a dormitory. She said she was not one of the popular students and often had little ups and downs, but she gave it her all and ended up passing her exams. After this she came to the city and attained computer literacy from Global Technology before going on to accomplish five courses at the Accountancy Training Centre CAT Level.
Around the Web