By Jeff Trotman
Eleven-year-old Lensey Adolph captivated her audience, and captured the judges' approval to walk away with the 2013 Miss Hururu Pageant title shortly before midnight on Monday last.
The pageant was the final event in a day of activities by the people of Hururu as they celebrated their Amerindian heritage on the last day of Amerindian Heritage Month 2013.
The pageant attracted three contestants: Malika Russell, Miss Kwakwani; Gracelyn Campbell, Miss Hururu, a 19-year-old secondary school teacher,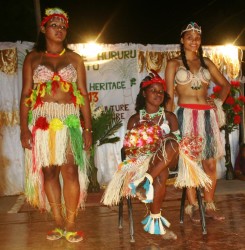 who enjoys playing competitive outdoor games such as cricket and volleyball; and Lensey Adolph, the audacious 11-year-old, Grade Six student of the Aroaima Primary School whose hobbies include dancing, listening to music and engaging in educational discussions.
Lensey developed a rapport with the audience from the time she appeared on stage for her introductory walk and she maintained that bond in all her appearances in the two-hour long show. Her voiced hobbies were put to good use in the talent and free speech segments. She evoked the loudest applause from the spectators as she competently displayed a popular Jamaican dancehall-style dance.
And displaying a maturity that belied her diminutive figure, she drew more rapturous applause from the audience when she chose to speak on infidelity as the topic of her choice, highlighting the pain and trauma caused by unfaithfulness in marriage.
Gracelyn, whose "greatest ambition is to work hard and study to achieve" all her life goals, needed to work harder on her poem, which left the audience in incomprehensible silence after she had completed it.
Malika, meantime, was let down by the disc jockey and had to sing her song without musical accompaniment.
The pageant also featured the contestants in evening gown and cultural wear in which they displayed straw skirts and tops along with beaded necklaces. During the intelligence segment, Lensey tersely named four Amerindian dishes: "We can have takoma worm, pepperpot, cassava bread and farine."
In response to the question that in today's society Amerindian people have lost their culture and what can be done to revive and preserve it, Malika said it was evident that Amerindian people have lost their sense of identity because it is only in the month of September that Amerindian culture is brought to the fore.
She said the culture should be imparted to young children "so that the culture would grow within them so that they could teach to their children."
She added that Amerindian culture should be part of the school curriculum so that people of Amerindian heritage would not forget where they came from.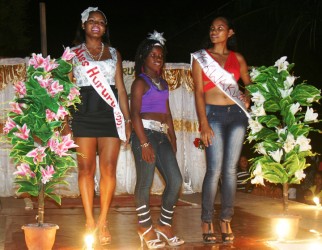 Gracelyn was asked to name an area in her community which needs development and to give a solution. She pointed to education and advised that "parents, guardians [and] teachers … should all seek a way that each child pays full attention to his or her books. By doing this the children would better understand their schoolwork because without education you can move nowhere in today's modernized world."
The pageant was punctuated by cultural items, including interpretive dance, standup comedy and a number of Amerindian songs by Aunt Doreen. Earlier, Deputy Toshao Victor Walker, in delivering welcome remarks, called for the full cooperation of everyone for a successful celebration devoid of conflict.
Renetha Ignatius, Secretary of the Hururu Village Council, was thrilled by the massive support from Kwakwani and other villages in the Upper Berbice River.
Noting that the other Amerindian villages would have already held their celebration on different days during the month, the Hururu village secretary said: "We participate in their activities and they in turn support us when we hold our own activity."
According to her, the day's event was awesome. "I enjoyed every minute of it," she added. "I planned it and my plans were executed.
I'm thankful for the support that I got from the teams from the Berbice River and the Region Ten Democratic Council and all the persons that helped to make this a success. Indeed, the day was great."
Walker also expressed satisfaction to Stabroek News at how the day had unfolded: "It was a wonderful day and we want to thank all participants and supporters for their contribution. We know that BCGI is our main supporter for this event and we send our heartfelt appreciation to the company. We are going to make the next Heritage event a better one." The day's activities included softball cricket for male and female teams, seven-a-side football, volleyball and a musical chairs competition, which was won by Member of Parliament for Region Ten Vanessa Kissoon.
She donated the $3,000 prize money to the Hururu Village Council for use in next year's Amerindian Heritage Month celebration. Kissoon had travelled to Hururu from Linden along with Melissa D' Olivieira, who represented Region Ten at the national Amerindian Heritage Pageant.
They found themselves picking up hammer and nails to assist in the last-minute decorating of the stage and Kissoon also found herself in a new role of MC.
Apart from being one of the three judges of the pageant, D' Olivieira also featured in a guest appearance as a model while the audience waited on the results of the pageant, which commenced at 9.45 pm.
Around the Web