It was a night that clearly was meant to thrill. There was music, dance, beauty, fashion, suspense, tension, shock, disappointment and nervousness. This was last Sunday; the night of the Miss Guyana Universe Pageant.
The title was won by Katherina Roshana who now has just a few weeks to prepare before she must be in Moscow, carrying the hopes of Guyana with her, at the Miss Universe Pageant.
If it seemed a bit rushed, it's because it was. Just over two weeks after the pageant was launched,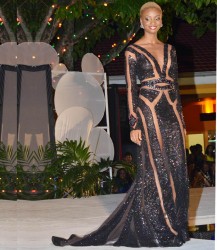 the eight contestants were on live television competing in the intelligence segment conscious that in a few days they would be on stage. There was very little time for preparation and this placed some of the contestants at a distinct disadvantage.
The pageant started 30 minutes late with a performance by members of the Classique Dance Company to Beyoncé's "Grown Woman".
The eight contestants then introduced themselves as: Carlea Cindy Chappel, 19, sponsored by Nabi Construction; Kenwah Cho Quan Yi, 25, sponsored by Muzik Club of Canada; Tiffanie Ann Nieuenkirk, 21, sponsored by Schwarz Law LLP of Canada; Shyon Hoppie, 19, sponsored by Shalinsky & Co of Canada; Ayana Whitehead, 18, sponsored by Rainbow Fashion; Carla Brown, 19, sponsored by Red Earth Crystal Clear Water; Alicia Bess, 23, sponsored by AU Drilling; and Katherina Roshana, 23, sponsored by Limacol.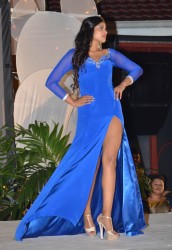 They had previously been judged during the intelligence segment and the points gained there were brought forward to be tallied with the points they would earn in the swimwear and evening gown segments along with a rating for their overall beauty for their placements in the final four.
From the introduction it was obvious that Katherina was a crowd favourite, but she received stiff competition from Ayana who also received massive support from those in attendance. Alicia was also a forerunner with Kenwah, Carlea and Shyon tagging behind.
The evening saw a fashion display from Sonia Noel Fashions to showcase Guyana Fashion Week which is scheduled to be held from October 20 to the 27 at Rahaman's Park, Georgetown. This was followed by a dance: Aurora Collection.
The swimwear segment followed, where the contestants all modelled red and yellow two-piece swimsuits with bright red shoes to the song "Turn up the Love" by the Far East Movement.
As their names were announced the contestants stepped onto the catwalk and removed their red net wraps as they modelled their identical swimsuits.
Carlea, Kenwah, Shyon, Ayana, Katherina and Alicia received deafening cheers despite a mix-up: Ayana's name was announced but Shyon proceeded to model since she was next in line, while some in the audience who noticed the error called for her to turn back.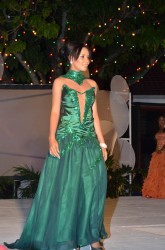 Jamaican artiste Alaine was up next and she started off singing her hit "We Rise in Love" much to the satisfaction of the audience before moving on to Selena's "Dreaming of You". She did a session in acapella which wowed many before she went on to accompany herself on the keyboard. What really blew away the audience was her rendition of Etta James's "At Last". Alaine's soothing performance was the perfect introduction to the evening gown segment.
With so many individual styles, colours and fashion, Lady Gaga's "Applause" was the right song to spark the energy.
First came Carlea in a green, shimmering gown with a flesh-toned panel running across the neckline and down the front of the bodice.
Kenwah was next in a flirty peach gown; the bodice was gold and peach while the skirt flowed in tiny flounces from the hip to the ground.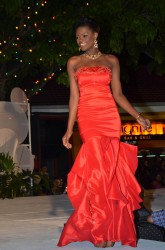 Tiffanie's gown was a brilliant sunflower yellow dress with a flowery dazzling bodice and a train that appeared to flow from her shoulders. Exquisite silver jewellery complimented the dress.
Shyon wore white gown with black diamond designs at the top that wrapped around her waist. It was cut low at the back and she wore silver and black shoes.
Ayana was without a doubt the belle of the ball. The cheers were thunderous when she appeared in a shimmering black gown with transparent panels from shoulder to ankle, showing her golden brown skin; sparkles danced all over the gown brightening her smile and her signature hairdo.
Carla Brown was next, a vision in pale peach with paler gauzy flounces from the mid-thigh to the ground and a jewelled effect around the waist and neckline.
Katherina's bright blue gown with its long sheer sleeves seemed tame by comparison; that is until she began walking. A slit from ankle almost to her hip put it back in the realm of the risqué given that it flared from the waist and did not require a slit for walking purposes.
Firing up the catwalk after Katherina's cool blue was Alicia's flaming red body-hugging gown. It was finished with vertical frills that ran from mid-thigh to ankle and accessorised with an exquisite necklace and golden star earrings. The gown accentuated Alicia's long slim body, or was it the other way around?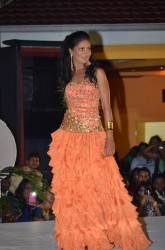 To keep the audience energised, 2013 Carib Soca Monarch Jumo Primo came on stage singing Laza Morgan's "One by One", serenading the contestants before they walked off the stage.
He then went into his hit single "Nosey People", bringing mirth to the audience and even called UK Ambassador Andrew Ayre, who was quite game and really got into it, to dance with him.
Anticipation was thick in the air as the special awards were given out. Miss Congeniality, the award given to the friendliest contestant by way of a vote from the other contestants, went to Ayana. The judges voted Carlea as Miss Body Beautiful and Katherina won the Best Smile Award. They received flowers and approval from the audience.
Katherina was then announced as the first finalist followed by Alicia, Ayana and Carlea. The other four contestants then left the stage and it was time for the final question.
Ayanna, whose platform dealt with art to unite humanity, was asked what steps she would take specifically in the education system to use art to unite humanity. Her response: "I would encourage every single educational institution to have an art club in their school. As the former president of the arts club at my previous school, I saw so many friendships and bonds created because of that arts club – everyone shares a talent and an interest in art and children are who should be a part of it most so every school should invest in this. Thank you."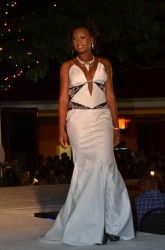 Although Ayanna gave a brilliant answer to the question, she basically rushed through it and seldom paused. She nevertheless received massive applause.  Katherina, whose platform was based on autism, was asked what she would tell a parent who could not deal with an autistic child and was putting that child up for adoption. Her response: "I think that each individual is special and there is no difference with an autistic child. They are just as special and just as loving and we just have to learn to be with them and teach them and that's basically it! They all are special, unique and we should always love each other."
Katherina's support fell after her answer as many found it to be shaky and somewhat childish. She did however take the time to slowly pronounce her words rather than rapidly blurting them.
Carlea, with a platform that looked at empowering young girls was asked what she thought was necessary to empower young girls. Perhaps because she was nervous, Carlea began talking about social issues like teenage pregnancy then paused while the audience heckled. She then continued on the topic of teenage pregnancy before pausing once again. The hostess repeated the question and even went as far as emphasising what her answer should be. But Carlea turned from the microphone after hesitating a bit and walked back and stand in her original spot.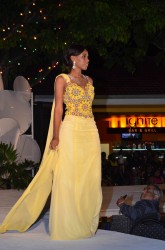 It was then Alicia's turn to answer another question based on the platform of women empowerment. She was asked to address the issue in Guyanese society where there is the challenge that young women think it is okay to dress the way they see females dressed in music videos. She replied that she would address the issue by first empowering all women. "I believe that we as Guyanese women are very strong and we uphold a lot of moral values but a few of our young ladies have fallen off the tracks mainly for financial reasons or whatever…. All I would like to say is women get back to your roots; embrace the morals that our grandparents and our parents set…"
Alicia could not finish her answer as the audience burst into loud applause and screams. With perfect comprehension of the question and her composed and fluent answer, there was no doubt that Alicia had taken this segment.
As customary in pageantry, Ruqayyah Boyer made her final appearance as Miss Guyana Universe in her crown and wearing the shimmering yellow gown Michelle Cole designed for her to wear at the Miss World Pageant just a week ago in Indonesia.
She described her reign as "Nothing short of a life changing and humbling experience." She went on to talk about her accomplishments and the many opportunities given to her as Miss Guyana Universe. She thanked all her supporters, the media, designers, photographers and anyone who helped her along the way.
National Director and Franchise holder Odinga Lumumba was then invited to speak. He thanked the audience for their support and Ruqayyah for being an excellent queen. He spoke about the prize that the winner will get along with what she can look forward to at the international pageant. He thanked the owner of the Pegasus Robert Badal for supporting this year's pageant by offering the space free of charge. He noted that the private sector has a role to play in development and actions like that of Badal help to promote the country.
The results were ready and it fell to Chief Judge Chris Sammy to announce the placements. The announcement of Carlea as third runner-up satisfied the audience. However, there was an uproar when Ayanna was named second runner-up. Many spectators began to leave expressing their disappointment.
The thick tension was broken when Katherina was named winner and Alicia, first runner-up.
After being sashed by First Lady Deolatchmee Ramotar and crowned Ruqqayah, Katherina made her first walk as queen.
She is expected to arrive in Russia later this month for the pageant scheduled for November 9 at the Crocus City Hall, where she will vie with 86 other young women from across the globe for the title of Miss Universe.
The judges at Sunday night's pageant were: Negla Brandis, pageant consultant and executive director of the Ms Renaissance Pageant; Stanford Solomon, certified accountant; Jennifer Webster MP and Minister of Human Services and Social Security; Samuel Barakat, CEO of an engineering and construction company; Steve Ninvalle, Deputy Permanent Secretary, Ministry of Culture, Youth and Sport and PRO for the Miss Guyana Universe Pageant; Hessaun Yasin-Nandlall, Head of the Legal Division, Guyana Revenue Authority; Sonia Noel, CEO of Guyana Fashion Week and Publisher of Makin' Style Magazine; Ronnie Morris, singer/songwriter and CEO of Barbados Music Awards and Sharon Roopchand-Edwards, economist and Assistant Dean of the Faculty of Social Sciences, University of Guyana. Chief Judge Chris Sammy is an investment banker.
Around the Web