(Billboard) Cradling a cherry red guitar and decked in a tartan plaid dress, poinsettia jacket and matching studded, strappy heels, Kelly Clarkson isn't exactly soft-pedaling her upcoming holiday album, 'Wrapped in Red'.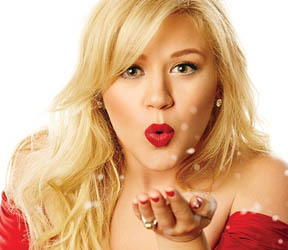 And it hardly matters that Halloween is not here yet. For the past year, Clarkson has had Christmas on her mind. Conversations about Clarkson's sixth studio effort being a Christmas album started last December, and recording with Greg Kurstin, who produced Clarkson's 1.1 million-selling Billboard Hot 100 No 1 'Stronger (What Doesn't Kill You)', began in May. RCA is shipping a half-million total units for pre-order on Amazon.com and Target.com. For Clarkson, the disc represented a chance to break free of expectations. "I've been dying to make a Christmas album," she says, speaking in a high-octane pitch that telegraphs her enthusiasm about the project, which includes both originals and some twists on classics. "I always get asked what genre I'm in: 'Is this country or pop or rock? What are you?'" she says. "And what's cool about making the Christmas album was, 'Oh, there are no limitations! We can do whatever we want!'"
For RCA, the album is part of an all-out holiday assault during which the label will release not just 'Wrapped in Red' but also the soundtracks to Black Nativity, starring Jennifer Hudson, The Best Man Holiday, which features R Kelly, Fantasia and Mario, and a Leona Lewis collection that puts a Motown spin on Christmas songs.
But the label has 'Wrapped in Red' pegged as the one that will cross all formats and become a new holiday classic, boosted by Clarkson's NBC holiday special, "Kelly Clarkson's (Cautionary) Christmas Tale," in early December. "It's our main release this season," RCA VP of marketing Aaron Borns says. "The angle on this album is that, like all great Christmas records, it's about amazing vocal performances. That's what this is intended to be-an album launched this year but timeless and genre-defying."
"It's all over the map," Clarkson adds. "But in a good way."
Around the Web