Guyana Fashion Week (GFW) has but a few events left before the inaugural 2013 season ends tomorrow night at Rahaman's Park, Georgetown.
GFW under the theme 'Bringing life to Fashion and Bringing Fashion to Life' is collaborating with the Ministry of the Environment and Natural Resources to celebrate the United Nations' International Year of Water Cooperation. A specific theme, 'There is no life without water' was set for this celebration.
The aim of the fashion week is to create a viable fashion industry, while widening the scope of its market reach for all of its contributors and participants. Attention to the Guyana fashion scene has been growing with local designers being seen more internationally and according to GFW, this year, more than any other, there has been a slew of positive inquiries from  designers, models, stylists, makeup artists, talent managers, event coordinators, entrepreneurs, media, fashion associations and institutions, corporate Guyana, governmental agencies and non-governmental organisations, international development bodies.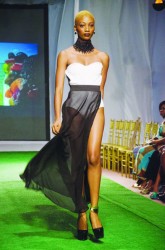 Cuttin' Style
GFW kicked off on Sunday evening last with a pre-event called Cuttin' Style, which saw six designers paired with six student chefs from the Carnegie School of Home Economics to create a uniform design to match a three-course meal. Creativity was the name of the game and participants were made aware that both design and culinary skills must compliment their themes of various assigned fruits and vegetables. The pumpkin was assigned to Chef Janelle Bourne and Designer Juanita Jones; the tomato to Chef Monique Ski and Designer Nelsion Nurse; the watermelon to Chef Richard Cordor and Designer Paul Burnett; the pineapple to Chef Tenisha Fainey and Designer Collin Zed; the coconut to Chef Denzel Dome and Designer Natasha David and the carrot to Chef Latoya Lashley and Designer Amanda Burvis.
The teams were assessed on having their culinary skills match their fashion art. The team which best demonstrated the marriage of both genres of style, effectiveness, concept, presentation of concept, sense of finish, best application technique, best use of decorative additive was Team Coconut – Chef Denzel Dome and Designer Natasha David.
Team Coconut prepared the only pure vegetarian meal at the competition. Team Tomato took second place and Team Watermelon was third.
Chef Denzel explained that a lot of spices were used to add flavour to the vegetarian dish. A tofu patty filled with grilled tomatoes, bell peppers and pineapples was the signature dish in this meal. Natasha's design incorporated the coconut fibre in the clothing and table settings: table mats and decorations.
On Monday afternoon there was a photography workshop leading into a performance art showcase titled 'All ah we is one family'.
On Tuesday there were workshops in fashion, wardrobe coordination, styling and make up followed by fittings and rehearsals for Wednesday night.
Courts/Fly Jamaica Aspiring Designer Showcase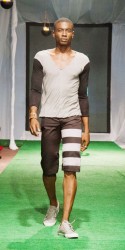 Wednesday's feature was the Courts/Fly Jamaica Aspiring Designers Showcase, which was aimed at promoting youthful artistic talent.
The event started well over an hour late with satisfactory turn out. After a dance by Isaiah Luther of the National School of Dance, artistic displays flowed down the catwalk to wow those in attendance as Master of Ceremonies, Russell Lancaster announced the six designers: Tiffany Sampson, Chenney Wong, Sasha Castello, Colwyn Abrams, Denita Prowell, and Bria Williams.
These new entrants to the fashion industry first had to create a recyclable Caribbean design with the Courts brand. All the designs were the Courts signature yellow with flashes of the blue and red. Second, they had to present their Caribbean flavoured collections.
Tiffany's seven pieces used a variety of colours including black and orange.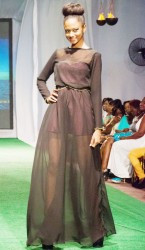 Chenney, whose models included Miss Guyana Universe 2013 runner-up Ayana Whitehead and Miss Guyana World 2012 Arti Cameron had eight pieces in black and white.
Sasha had six models with brown and white designs.
Colwyn impressed with his eight all-male designs in grey and black.
Denita's eight pieces were sky blue and white, cream and brown.
Bria's eight designs were in maroon burgundy and gold.
The evening ended with fashion showcases from Keisha Pilgrim of the Burrowes School of Art, Giftland Officemax with men's accessories and designer's brands, Loshana Walters of the School of Art and another student of Borrowes, Ashante Nelson who showcased craft— accessories, wooden art sculptures and even mirrors—held by models in black.
Exhibition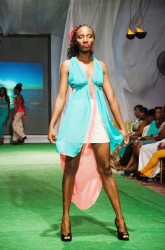 There is an ongoing exhibition by various designers, artists and companies. The booths include Fly Jamaica, Junior Creative Jewellery, Dale Patterson's Ki Mauris Kollections, the Burrowes School of Arts, Ceramics by Andy Cummings, Courts Furniture Fashion and designs from Sonia Noel along with her magazine makin' style.
The end of the Catwalk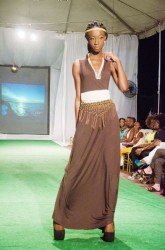 Last night saw the 'Life in the Fast Lane' runway collections. This afternoon there will be a self-esteem/confidence building workshop before the feature showcase event, 'Kiss of Life' runway collections.
Tomorrow night closes off the inaugural Guyana Fashion Week with a grand fashion display by signature designers in the 'Larger than Life' runway collections from 20:00 hrs.
The event is sponsored by the National Communications Network (NCN), Waterchris Hotel, Digicel, Ministry of Tourism, Cara Lodge, Caribbean Airlines, Brutal Tracks Records, Palace de Leon, DD Signs, Banks DIH, Church's Chicken, Fly Jamaica, Giftland Officemax, Courts, Carib Beer, Rahaman's Park and Kings Jewellery World.
Around the Web