Ask the 2013 Miss Guyana Talented Teen what her future plans are and there is no hesitation in her answer, she definitely knows that she will be involved in pageantry.
The queen of teens would also like to be on television and has plans to start her own show as soon as November, pending sponsorship. Teen Talk by Tiffani is the show's proposed name and it will tackle basic teenage issues, feature teens talking about how to cope with daily difficulties as well as promote a healthy lifestyle. Tiffani is an advocate against substance abuse, a personal platform she has up kept since the dawn of the 2013 edition of the pageant.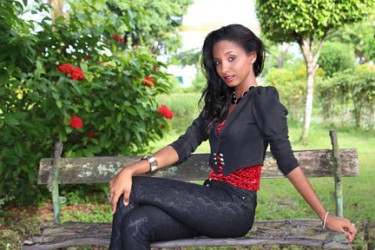 Tiffani strives to be a positive role model to all teenagers. She notes that substance abuse is a major issue in many schools and plans on tackling this based on a teenage perspective. "I strongly believe I can do something to stop this especially when my TV programme is out. I will be asking teenagers to come on the programme to share their views on different topics, any experience they have on peer pressure, domestic violence, teenage pregnancy, any issue that is out there. I'm also thinking about doing this advocating worldwide; I'm still young so I'll stick with Guyana for now," she said.
Born 15 years ago on April 27, Tiffani was the youngest contestant of the eight who entered the 2013 Miss Guyana Talented Teen and after months of competition and preparation, she was crowned on the night of October 12.
Tiffani grew up in Georgetown and at Eccles, East Bank Demerara. She still lives in the city with her parents and ten-year-old sister Tricia.
She describes her family as extremely close. "Even to my cousins and I share such a close bond," she said.
She revealed that she has always had a passion for modelling and singing! She recalled dramatising Disney's Hannah Montana or modelling her own clothes for her cousins and sister.
It was last year that Tiffani entered the pageant arena. She won the Ms Summerblaze Pageant which was put together at her lessons' place by her tutors to relax the students. She said she entered the Ms Guyana Talented Teen Pageant because of the tremendous support she received from her entire family but most importantly because she wanted to be heard singing.
And sing did she do! Her rendition of "Listen" by Beyoncé blew away the audience on the night of the pageant! Her strong voice had everyone in attendance mesmerised. She repeated the magic when asked to during the course of the interview.
She said she chose that song because it compliments her voice and the message is clear since she wants people to listen to her talent. "I wanted my voice to be heard, I put emphasis on the part where she said listen," Tiffani said.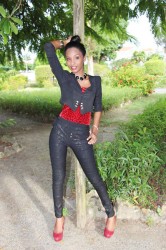 Asked about the actual night of the pageant, she said that it was a breeze and she did not feel pressured at all. "Back stage was normal for me," she said, joking that she was glad no one hid her clothing or props which she had been forewarned about.
Tiffani said she grew fond of the other contestants and today holds them as friends. She said that the entire pageant season was an unforgettable experience. The contestants were taught how to model, how to present themselves properly, they had a lot of education workshops, learnt how to write a proper curriculum vitae; and how to dance at a formal cotillion.
Tiffani described the dance as a lovely experience of ballroom dancing and at the end of the September 28 competition she came in third. These were just a few of the lessons "Ms Dillon teaches you for life", she said.
Pamela Dillon is the director of the Ms Guyana Talented Teen Pageant.
Throughout the pageant, Tiffani received motivation from her mother who she said was always there for her and kept supporting her throughout. Mrs Bonner was a fashion model years ago and had even owned her own modelling agency. While growing up Tiffani would watch her and strive to be like her. "My mom is everything to me," she said.
In December, Tiffani will represent Guyana at the Miss Caribbean Talented Teen pageant in St Kitts. Her plan is to promote Guyana through tourism; this is how she chooses to tackle the regional crown. She will sing again for her talent piece.
She is in the process of working on her wardrobe for the pageant and gaining sponsorship.
When she's not doing this, Tiffani can be found hanging out with family, socialising with friends in school and interacting on social networks. She seldom spends time with friends outside of school and one of her greatest hobbies is graphic designing.
Tiffani is currently a student of the Tutorial High School and will be writing the CSEC examinations next year.
Around the Web