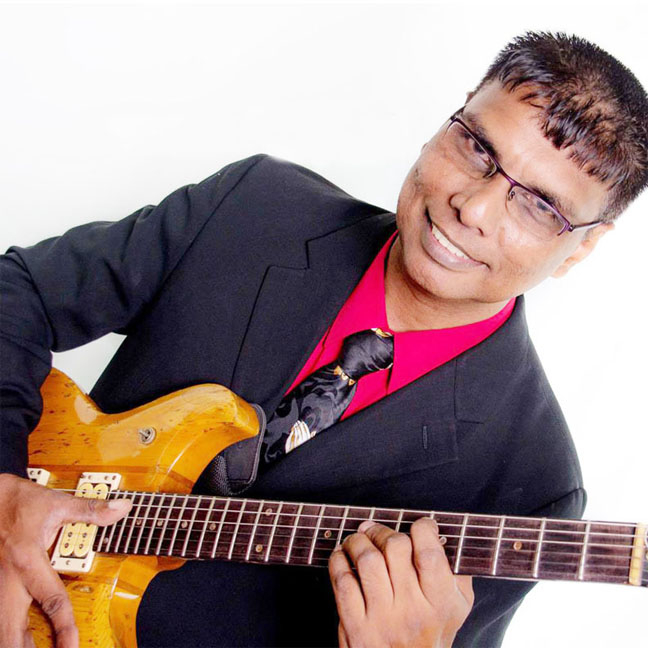 At the age of ten Phillip Parasram picked up a guitar and began fiddling with the strings. He eventually taught himself the art. Even after he became a priest, he continued to use his talent and 40-plus years later he teaches guitar playing and offers free lessons, all in the interest of helping aspiring musicians.
Pastor Phillip Parasram is a Guyanese recording artiste who is getting ready to launch himself on the local scene. He has instrumentals, jazz and gospel tracks recorded on his most recent CD 'You Deserve the Glory' which features his two originals "Midnight Sleep" and "Moments" and collaborations with other artistes based in the United States.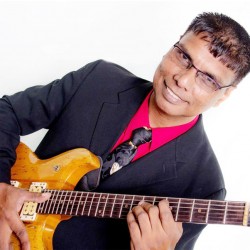 While he wants to release his work in Guyana he is fearful because of the high possibility of bootlegging. Guyana's inadequate copyright laws do not adequately protect the work of artistes, nor is it enforced.
Despite this and other commitments he has as a pastor that hinder the launch, he hopes to release the CD early next year. He wants to put out his music so that Guyanese can be more aware of gospel music, particularly guitar instrumentals. He plans on bringing more gospel and instrumental music to the Guyanese
people. He has collaborated with gospel musician Greg Haynes of the US, an artiste he described as "one of the gospel greats".
For Pastor Parasram, it all began with the church organ at the First Assembly of God Church in D'Urban Street. He used to play the keyboard instrument before seeing a guitar in the corner. Always interested in the sound, he picked up the strings and instantly fell in love. He then got his own box guitar at age 14, before progressing to the electric guitar. For the past ten years he has been switching electronic acoustics whenever necessary.
One of his guitar idols who fascinated him growing up was George Benson, a ten-time Grammy Award-winning Ameri-can musician. Wanting to learn more about music, Phillip started taking music lessons from his own resources and as he developed his talent he began to integrate it into gospel playing. "I found that music work whether secular or non-secular – it just has to be played in moderation and when necessary," he said.
For him music is a means of worship to God, he plays an expression to the Lord and it is a talent that can never be exhausted, "It's like a well always springing up," he said "It's not a lot about skill but about expression of the heart and how you feel inside."
As for being a religious leader, he said he became a pastor because he was raised by a pastor. His father, now 83 was in the ministry for more than 50 years and young Phillip was there working closely with his dad. After his father retired, Phillip took the baton and ran proudly with it. He also said he did not become a pastor particularly for the position but because of his love for people and guiding them in the right path. He said he had something to benefit others – mankind in general.
It seems as though 2014 will be a promising year for Phillip Parasram. He has been invited to do concerts in Trinidad & Tobago and the United States this coming March alongside Greg Haynes. He plans on continuing his guitar lessons, he considers guitar music to be a lost art since many go to the keyboard with pre-recorded sounds. But he is determined to teach the youths who shows an interest still. He wants to be as influential as possible and said that as he grows older he still wants to be relevant.
When asked to talk more about his views on Guyana's copyright laws and lack of artistic property protection as he sees it as a growing musician, he said "The music that is put down on this CD like many other artists is long hours of learning, training, cost of production and studio recording time. Then to bootleg is not fair to any artist and that's something that we really need to have standardise here in this country. People can take your stuff without consent."
He explained that there will come a time when he has to release the CD because it was made for the people. It was recorded at Welboro Studios in Guyana and produced in New York.
Pastor Parasram leads approximately 200 worshippers at the Betel Pentecostal Ministries in Grove on the East Bank Demerara. He thanks the Lord for the opportunities he has been granted and for his ministry that is still going strong. He plans on continuing his life's work through music and through the ministry.
He has been married for 32 years to his wife, Ruesther and together they have raised three children. Michelle is the eldest, Rochelle is a toastmaster speech competitor representing Guyana at the national and Caribbean finals, Shaun is the only boy and the youngest of the three who now runs his own business dealing with accounts and auto spares.
The family has a band. Shaun is the drummer. Michelle is a guitarist and worship singer. She is also a recording artiste who released a CD in 2008 for Carifesta with a single called "Tranquil Melody", which is often played by the National Communications Network (NCN) as background music in several ads and promo releases. Rochelle is the lead singer. All his children are currently engaged to be married.
Around the Web