(EUR) Spike Lee has been known to upset the apple cart and shed light on social and political issues that some would rather not have disclosed.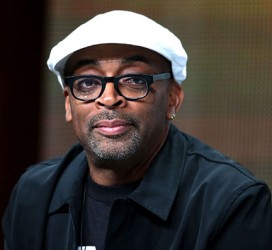 This time around Lee speaks to a guilty pleasure most of us share when he gives Oldboy new life.
In an effort to have some fun with Lee The Film Strip threw out a frivolous question I knew he would have fun with; and it was great to see him laugh:
Having worked with Sam Jackson before is there shorthand between you two and is Sam allowed to have some say in the process?
Samuel L. Jackson is allowed to do whatever he wants to do [Laughs]. It was great working with him again. The last time we worked together was Jungle Fever in 1991. It was like we never missed a step. He called me up and said he wanted to be in the film.
What was it about the story that spiked your interest?
Revenge and the fact that you have an individual who's locked up for 20 years not knowing who did it or why.
Do you think most people will be comparing your version to the original?
Most people have not seen the original. Even though it is a beloved cult film, most American movie going audiences aren't going to see a film with subtitles.
 That is so true because a great deal is lost in observing character nuances and important scenes when audiences are reading. Did you cast members in mind before you started?
No, I just knew that Josh (Brolin) and I had been talking for years about working together. Josh and I were in it together and with the help of my casting director, we filled out the roster.
What kind of thinking went into making this an American as opposed to an Asian sensibility?
Storytelling is global. It's only about what's going to work for the story, so it never came down to nationality.
It didn't really define where it takes place. Why is that?
We just wanted a nondescript city. New Orleans is one of the most distinct cities in the United States of America so it was a challenge. To shoot there and not make it look like New Orleans, and the reason why people shoot in Louisiana is because Louisiana has the best tax break rebate now. So you have hundreds of people who have left LA and moved to New Orleans because that's where the films are getting made and where the work is.
What's New Orleans like these days?
There's been some progress but the main thing is there's still a large number of African American population who have not returned yet and probably won't. They were forced to migrate to Atlanta, Houston, San Antonio and have found better paying jobs. Better schools. Better living. That's still been a thing that the city's missing.
 Could you talk about your next film,
The Blood of Jesus?
It's about people who are addicted to blood but they're not vampires. It's a contemporary film. We shot it in Martha's Vineyard and we're editing the film now. It's starring two relatively unknown actors with great talent and they did a phenomenal job. There's humour in it but a lot of blood and sex.
Around the Web