Considered to be the rock ambassadors of Guyana, Keep Your Day Job! (KYDJ!) members dedicate themselves to progressing in music not only in Guyana but outside the country as well.
Gavin Mendonca and Ryan Roberts have been accredited Grade Three and Two respectively, passing with merits in the Music Theory examinations of the Associated Board of the Royal Schools of Music (ABRSM).
They recently returned from Suriname after performing at the Dis Quiet Live Concert on October 26. They performed alongside Ae-ons (French Guiana) and Asylum (Suriname) along with ADHD (Suriname).
But this was almost a missed target, the band's temporary drummer had pulled out at the last minute and KYDJ! had to decide whether to cancel or forge ahead. The latter decision did not sit too well with the organisers who asked them to pull out after they arrived in Paramaribo.
"We just believed we will play yo," Gavin said, "Regardless of what happened we will be playing."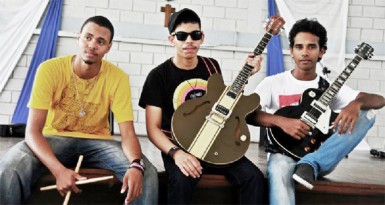 And play they did. ADHD offered its drummer, but there was not enough time to learn KYDJ! originals. "We couldn't have given the show what we wanted because of the hindrance but nevertheless it didn't stop us" the lead vocalist expressed. If there is any theme behind the Suriname experience for KYDJ! it would be to never give up.
The band sold signature CDs, shirts and other merchandise. They described it as the best punk rock weekend and a situation where everything fixed itself like a puzzle.
They even had an interview on the Surinamese radio SCCN Rock Bottom before performing an acoustic show at the Unkies House of Blues. "Overall the experience was great," said Ryan.
Meanwhile, KYDJ! has recorded an EP (Extended Play) of four songs: The Great Rebellion, The Man without a Name, Just like You and I am Punk, featuring Anti-Everything of Trinidad.
Between July and October the band widened its scope, playing Palm Court, Princess Hotel's Club Nexxt, Princess Casino, Berbice Expo, Dutch Bottle, Vintage Wine Bar, and Pegasus where band members met Eddy Grant. They also played at the Georgetown seawalls band stand for the fiftieth anniversary celebrations of the University of Guyana.
Their celebrated new single City by de Tides is a peculiar Guyanese-creole song about Georgetown. They sang it through the eyes of a tourist guide and will be making a music video soon.
They have actively been involved with the Guyana Music Network, a Kross Kolor Records initiative in creating a music industry through promoting local artists. KYDJ! members consider themselves the ambassadors of rock music in Guyana and wish to storm out of the Caribbean region and play in North America.
Keep Your Day Job! has had a fulfilling year. As 2013 comes to an end they will welcome home co-founder and legendary KYDJ! band mate Clifton Garraway.
Clifton served as the bassist before moving to rhythm guitar and then migrating to Canada. While Ryan and Gavin will be rocking it on their guitars, Gavin doubling as vocals, Clifton will be backing as bassist and is now a whiz with the drums.
"I'm really excited to get the group back together after we've had a bit of time to develop musically and also now that we have the attention of not only our core audience but the entire country. We know we are pioneers for punk in Guyana and that's a lot of pressure but we just got to put our heads down and do what we've always done, our absolute best of whatever we want to do," Clifton said.
Around the Web