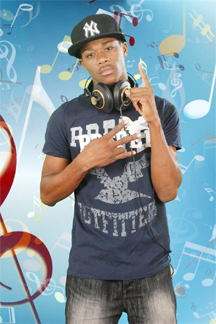 By Jairo Rodrigues
Singer and Producer Simeon Browne is seeking to create change through his music.
Simeon, stage name 'Lil J', was born 21 years ago on April 17 and raised in the small East Coast Demerara village of Golden Grove.
According to him, his community had a lot of "culture", which influenced him throughout the years and family relations were always close-knit. He described his family as compassionate people.
He recalled that concerts and shows were very prevalent during his childhood and the energy of the people was indescribable. He said it was all about "the vibes" and his small neighbourhood felt like one communal family instead of strangers in a locality.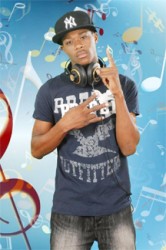 He remembers taking pots, over turned plastic buckets, bottles and even a round piece of zinc to make a drum set.
He grew up on the music of Bob Marley, R. Kelly, Michael Jackson, Usher, Whitney Houston and Britney Spears and said his immediate family encouraged him to express his emotions through music. Simeon said his hopes and love for God made him brave enough to pursue his dream, and stubborn enough to endure it all.
From the time he was a toddler, music was it for him. "I mean I remember singing at the nursery school concerts and it was amazing. It is amazing how much the musical part of that time had influenced me," he said.
After graduating from high school, he was still keen on taking up music as his career and so he studied at the Guyana Music School before being signed with Kross Kolor Records gaining the exposure he needed, a vast amount of knowledge and the opportunity to indulge his musical interests.
"I put my all into this and I tell myself I'm not gonna stop, cause in reality I can't, so I keep going with the faith that I'll be successful someday," he said.
Simeon's dream is to do great things through his music for his neighborhood and his country. "I want to create the change I imagined when I was a child," he said.
His musical influences are varied, among them are: Quincy Jones, Dr Dre, Bob Marley, Jah Cure, Burchmore Simon, Russell Simmons, Hendricks, Kanye West, Timbaland and Usher. "For me, in their respective areas these people are on top and give their all, that's worth my respect," he said.
Asked about his genre, he said that genre is a big topic in music. From the beginning he expressed that he had a love for Reggae, but this has not clogged his mind. He's also into R n B, Dancehall and Pop. "They haven't changed for the past five years but I've grown to be more open minded about music," he expressed. Simeon said he has an appreciation for Rock and Soca also.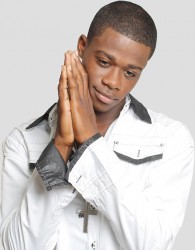 "Reggae and Dancehall is what most societies in the Caribbean groove to, not forgetting Soca, but the One-drop Reggae is associated with so many songs about peace, love and the compassion of the people that I just can't grow out of. I'm in love with it. That sets the tone for most of my songs dating back to when I did my first recording, that's how I see it, it's all about the love," he said.
His songs have no particular boundaries, he uses them to express his thoughts or the thoughts of a group of people on a particular topic: from love, God, faith, dreams and reality to anything except things that he ignorant about.
He is positive that his music will definitely take a more universal approach, and he will be one of the leading artists rooting for Guyana. Some of his pieces include "Genie Ga", which he sang for Carifesta X; "Take My Life Away" and "Need You in My Life".
As a producer he helped with Vanilla's "Rage", Jumo's "Bad Mind" and Adrian Dutchin's "Hello".
"I had the privilege of working with these artists at Kross Kolor records at what I like to call, the evolving stage of my career as an arranger and a producer," he said.
The Scene asked what his responsibilities as an arranger and producer are and he replied that as an arranger he has to compose instrumentals or tracks for companies and artists. The artist would normally just lay a vocal down or sing it to him. He would play the instruments — he is talented at playing the keyboard, drums, piano, and the guitar amongst other instruments — through a digital audio workstation in a cohesive manner to complete the track so the artist can sing over it.
As a producer his job is to guide the artist through a recording session, highlighting what is needed to make the song perfect. He is also the recording and mix engineer for most of his projects so he plays a critical role in the entire production of the music.
He cited two of his most accomplished productions to date: "Last Day" which was Dancehall and "ASAP" which had a Reggae tune.
"What is most outstanding about my job is to put the emotions into it all and see people relate to that – it's just mind blowing," he said.
He is currently not signed on to a record label as a singer but he is attached to the Kross Kolor records as a producer. "There is where it's at!" he said when asked to talk about the record company, "Any young, talented person who hungers for knowledge and success should seek Kross Kolor."
Simeon himself has performed in a few shows in the Caribbean islands while representing Guyana. His most recognised performance would be at the Guyana Food Arts and Music Independence Festival where he performed at the Damien Marley headlined concert.
Simeon is happily married with one son.
He will be furthering his studies in music engineering and economics shortly. He is also currently working with some new acts locally and overseas under his label WondamanG Productions.
He encourages all musicians and people of the arts to join the Guyana Music Network to help build the local entertainment industry.
Around the Web