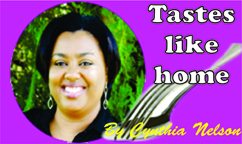 Hi Everyone, I'm sure that many of you have had stuffed duff before. Well, I hadn't, until last week when I made some. Sure I'd heard about it before but not being a big dumpling lover, I did not go out of my way to try making it. However, after my cassava and mince escapades in the kitchen, I found that I still had some cooked mince remaining so I decided to make some duff and stuff them.
After I'd finished steaming the duff, I remembered that my aunt Golin always used to like to "fry" her duff – more like toasting with a little oil in the pan,so I decided to do that too; sometimes she'd chop up some onions, tomatoes and herbs to 'season up' the duff. I took my first bite of one of the stuffed duff, leaned my back against the wall, knees bent, and whispered, "Where have you been all my life?" And on that note, let me just say that I cannot believe that all of you stuffed duff makers and eaters out there, never, in all this time, sent a note suggesting that I try this thing. Especially after all the cooking and sharing I does do wid y'all.
While eati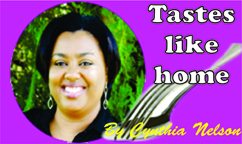 ng my stuffed duff, I was reminded of a Chinese Pau, only bigger, meatier and lots more to eat (laugh). I made 6 and had one each morning for breakfast. I had to restrain myself though because I was tempted on more than one occasion to have them for dinner as well. They were filling and satisfactory on so many levels. There was the perfect bread to meat ratio. The carb and protein combo for the start to a first meal of the day, and more importantly, it kept me filled until later in the afternoon. As I write this column, I so wish I had one of those duff to eat now.
Next time around I think I want to stuff the duff with fried salt fish or smoked herring (aka red herring). Some Guyanese smoked fish would be great too. Can you imagine around the holidays putting some chopped ham or finely chopped and cooked garlic pork in the duff? Oh, oh, how about some bunjal baby shrimp? Yes, I know that we can cook veggies and stuff the duff too, but let's focus here people; we have a theme going…
Think about it, if you left over roast chicken or roast pork you chop it up, do a 'lil fry up and stuff that duff. All right, I'll stop. You get the picture.
Stuffed Duff
Yield: 6 large Duff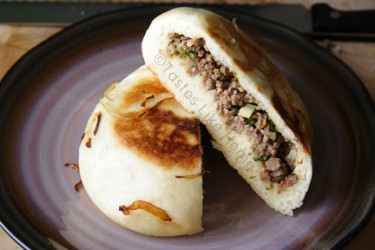 INGREDIENTS
For dough:
●  2 ½ cups all-purpose flour, plus extra for dusting
●  2 ½ teaspoons baking powder
●  ¼ teaspoon instant yeast (optional)
●  2 tablespoons sugar
●  ¼ teaspoon table salt
●  2 tablespoons vegetable shortening
●  Lukewarm water to knead dough
●  Oil
For filling:
●  ½ cup finely chopped onions
●  1 tablespoon finely minced garlic
●  1 tablespoon finely chopped fresh thyme
●  Minced hot pepper to taste
●  Salt to taste
●  2 green onions (shallots, scallion), sliced thinly, white and green parts
●  1 pound minced beef
●  3 tablespoons oil
TOOLS & EQUIPMENT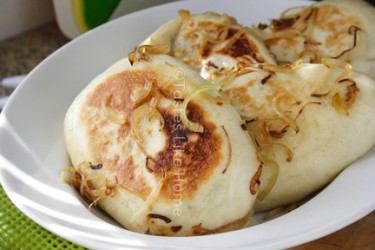 1 large bowl
1 large frying pan (preferably skillet)
Rolling pin
6 x (6-inch) pieces of parchment paper, brushed with oil
Baking sheet or 2 large plates
Steamer (bamboo) or large steaming rack
1 large pot with cover if using steaming rack
1 karahi or wok if using bamboo steamer
Wire racks
DIRECTIONS
For dough:
1.  Add flour, baking powder, yeast (if using), sugar and salt to large bowl and mix well.
2.  Rub the shortening into the flour.
3.  Pour water to make a dough, turn dough on to floured work surface and knead for 3 – 4 minutes. Rub oil all over dough, and lightly oil the bowl; transfer dough back to the bowl. Cover and let rest for at least 30 minutes.
For filling:
4.  While the dough is resting, heat oil in pan on medium heat until hot but not smoking.
5.  Toss in onions, and cook for 2 minutes then add garlic, thyme and pepper and cook for a further 2 minutes and season with salt to taste. Push the onion-mixture to the sides of the pan creating a wide circle in the centre of the pan.
6.  Add mince to the middle of the pan and quickly spread in an even layer and break up any clumps (do not mix with onion yet). Let the meat cook until it starts to brown; then mix with the onion mixture and cook until the meat is no longer pink and any liquid has evaporated. Season with salt to taste, stir in the green onions and set aside to cool completely before stuffing the dough.
Combining dough & filling:
1.  Cut the dough into 6 equal pieces and form into balls.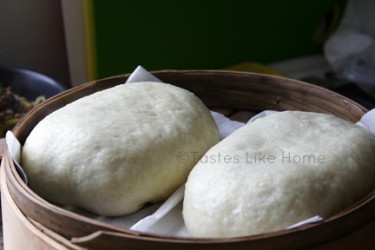 2.  Lightly dust work surface and rolling pin.
3.  Take one dough ball and roll it into a rectangle 4 inches in width.
4.  Spoon some of the mince mixture in the centre along the width of the rolled dough; do not over stuff.
5.  Lift the top and bottom parts of the dough (facing you) and pinch to seal securely; continue lifting and pinching the dough on both sides, sealing in the filling, until you reach the ends. Press the sealed ends in towards the centre so that it does not look so pointed or you can leave as is. Transfer the stuffed dough, seam side down on to one of the oiled pieces of parchment paper and place on baking sheet or plate.
6.  Repeat steps 2 to 5 until all the dough balls are stuffed. Dab a little oil over each stuffed duff to prevent a skin from forming. Cover and let rest for 25 minutes.
7.  About 10 minutes before the second resting period is over, add water to wok or karahi and place bamboo steamer over water and bring to a boil. Or, if you are using a metal steamer, add about 3 cups of water to pot and insert metal steamer (check that the water is not touching the bottom of the steamer when inserted. If it is, pour off some of the water. Cover pot and bring to a boil.
8.  When either pot has come to a boil, steam the duff in batches depending on capacity of the pot/steamer. Do not remove the parchment paper. Cooking time for each batch is 10 minutes.
9.  Remove steamed duff from pots and place on wire rack to cool.
10. Serve warm, as is, or fry (see instructions below) and then serve.
For frying duff:
1.  Fry duff only when cooled or at room temperature.
2.  Heat 1 tablespoon of oil in a pan until hot. Swirl the oil around the pan to coat the sides and add the duff, let toast, brown on one side and flip to toast the other side. If you want to, chop up some onions, tomatoes and herbs and fry it up in the oil first and then add the duff to be toasted; it gives extra flavour.
3.  Serve hot.
NOTES
●  Minced beef can be replaced with minced chicken, pork or lamb. Salt fish and other cured meats can be used too. Potatoes mashed with vegetables would make for good vegetarian filling options.
●  If you don't have thyme, use an herb of your choice.
●  Have a kettle with hot water on standby in case you need to replenish the boiling water between batches of cooking the duff.
Enjoy!
Around the Web