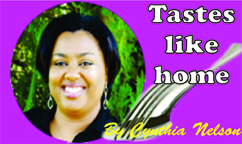 Hi Everyone,
There are many things that the Atlantic hurricane season brings – the need to stock up on canned food, bottled water, batteries, candles, matches, portable radios and then there is the requisite construction work to ensure that roofs are intact, shutters are sturdy, trees trimmed and the yard free of debris. However, what the hurricane season also brings is a variety of fish that cannot be had at any other time of the year.
In Barbados, dolphin (aka Mahi Mahi), Blue Marlin, King Fish, Tuna and Flying Fish can be had throughout the year. However during the Atlantic hurricane season – which runs from June to November – one can get other kinds of fish such as Tabeoo, Cavalli, Black Jack, Brim, Red Snapper, Jacks, and Chubb, among others. Whether these fish come for more food, pleasant weather or to find the perfect place to breed, all fish-eating lovers warmly welcome them. I know, it sounds terrible doesn't it? The fish come on vacation and we trap and eat them. Ah, the food chain.
I have to thank my friend Wendell, who owns two fishing vessels and has been educating me about fish in Barbados. This is the first time I am experiencing the fish here in Barbados in this way and I long for the same kind of friendship and education with someone in Guyana because I know there are so many more varieties of fish to be had in Guyana.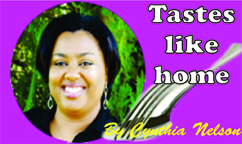 When his boat comes in, I get an early morning call from Wendell and I head down to Oistins, one of the more popular fishing villages. Once there, Wendell opens up one of the huge crates packed with fish and ice and the conversation starts with me pointing and asking, "What's that one called?" Questions of taste, texture, and the best way to prepare the fish quickly follow. Wendell even recommends how I should have the fish cut to best enjoy it – bone off: all the bones removed but the fish is still whole with the head holding the two halves together; filleted, or one side fillet and one side bone on; cut into steaks, skin on or skin off. One day he even instructed me how to eat the Black Jack he introduced me to: steam it and eat it with your fingers, no knife, fork or spoon. "Why?" I asked. "The fish is sweet. You will feel how nice it is when you touch it and you will see how your fingers stick together from the gel of the fish skin." "Yes!" chimed in another customer, who was obviously familiar with the fish in question (Black Jack). "Put a lot of hot pepper," he said licking his lips, his head raised and he looked into the distance as if he was remembering the last time he'd eaten Black Jack.
Each week I pack my shopping bag with fish and head home to feast on fish – curried, stewed, fried, baked, pan-seared, steamed with pickled vegetables, as fish balls, fish patties and fish cakes. With fish so fresh you want to do very little with it, however, when you are eating a lot of it, and frequently, you are bound to think of cooking it with the flavours of other cuisines. That's what I did when I made some Thai fish cakes.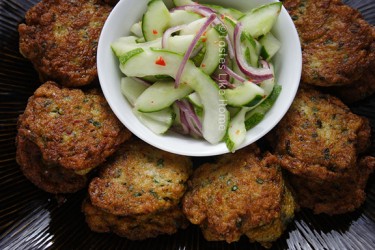 Lemongrass, cilantro/coriander, and coconut milk add a special flavour to these fish cakes; seasoned with fish sauce make these fish cakes one of a kind. Different. Delicious.
Thai Fish Cakes
Yield: 14
INGREDIENTS
1 pound boneless white fish, skin off (snook, trout, grey or red snapper)
Chopped hot pepper to taste
2 tablespoons chopped cilantro/coriander
3 whole scallions/green onions, roughly chopped
3 cloves garlic, peeled and roughly chopped
1 ½ tablespoons chopped lemongrass (see notes below)
1 ½ tablespoons fish sauce or salt to taste
½ cup coconut milk
1 whole egg
¼ cup thinly sliced bora
Vegetable oil for shallow frying
DIRECTIONS
Cut the fish into small pieces and set aside.
Add to the bowl of a food processor the pepper, cilantro/coriander, scallions/green onions, lemongrass and fish sauce and grind to a paste.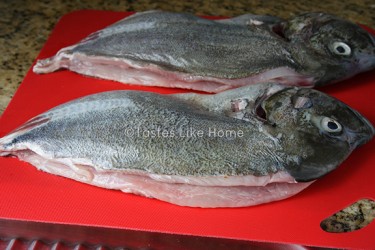 Add the fish to the paste in the food processor along with the coconut milk and egg and pulse to a paste.
Transfer the mixture to a bowl and mix in the bora. Store the mixture in an airtight container and refrigerate overnight or at least 3 hours so that the mixture can set.
Remove the fish-cake mixture from the refrigerator and form into 2-inch round patties (1/2-inch thickness) while the mixture is still cold.
Pour ½-inch of oil to a shallow frying pan and place on medium heat until hot but not smoking.
Fry the fish cakes in batches and drain on paper towels.
Serve hot with a sour or cucumber salad.
NOTES
Lemongrass for this recipe refers to the root/stem of the lemongrass. Remove the fibrous shafts until you get to the tender part of the lemongrass.
If you cannot get your hands on cilantro/coriander, chadon beni is a good substitute but use only half of the amount required because chadon beni is stronger in flavour, but if you like the herb, go for it.
This mixture can be rolled into balls and steamed.
Around the Web