Roraima Airways Chief Executive Officer Captain Gerry Gouveia says he has "ongoing concerns" over the fact that the Guyana Civil Aviation Authority (GCAA) has the "lead responsibility" in local aviation accident investigation.
"It is really a question as to whether the Civil Aviation Authority ought to be doing such investigations since one can conceive of circumstances in which they themselves might be the subject of those investigations," Gouveia said, adding that the laws of the land allow for independent investigation of such accidents.
"This is not a criticism of the Civil Aviation Authority. I am merely making the point that we cannot have situations in which the Authority might be investigating itself," he said. "The other point of course is that the laws of the land empower the President to set up special accident investigation teams."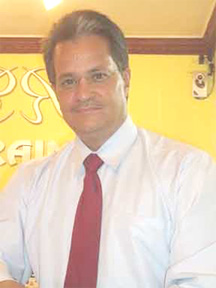 The veteran aircraft pilot told Stabroek Business there is good reason why the outcomes of investigations into aviation accidents should be put in the public domain. "There is really no reason why this should not happen. It allows for both technical and public assessments of what is happening in the sector. That way we can address the weaknesses in the sector while building confidence in the integrity of the industry."
Speaking with Stabroek Business just days after last Saturday's Trans Guyana Airways aircraft crash in which the pilot and a cargo handler were killed, Gouveia acknowledged that continually rising demand for interior aviation services, particularly for the movement of miners and mining equipment required the sector to continue to provide a quality of service in which the consumer could have confidence.
"There is no question about the quality of the service which the industry provides. There are protocols associated with the procedures, pilots and aircraft that are the subject of stringent verification. Those protocols have to do with ensuring that our pilots are in a suitable physical and mental state to fly aircraft. The aircraft themselves are subject to periodic checks, inspections and maintenance regimes which must be adhered to. The aircraft owners, pilots and technicians all understand that they are accountable to a higher authority and that there are verifiable procedures through which we can determine whether or not these procedures are being followed. I have every confidence that all of our operators in the sector can offer customers these assurances," Gouveia added.
While offering assurances about what he described as the "systems and oversight management" associated with the aviation sector Gouveia said that the "challenges often lie in the conditions in which we operate." He alluded to "short runways and obstacles" adding that flying in the interior "poses other challenges that have to do with flying at night…." According to Gouveia, the importance of a safe and efficient local aviation sector "speaks to the need to ensure that adequate sums of public money be readily available to continue the ongoing upgrading work that is necessary to ensure that our aviation infrastructure attains higher standards."