Harold Smith is one of a succession of Guyanese whose names are linked to the international shipping industry. His company, the New York-based Sunshine International Shipper is currently in its fourth year, though his own association with the industry predates the creation of that company.
Much earlier, Smith had worked with the Customs and Excise Department in Guyana then left the country in 1969 with the intention of studying then returning home. The latter part of that plan remains unfulfilled. A first degree in Economics and a subsequent MBA were, it seems, enough to persuade him to contemplate a business of his own. That was not how it went in the beginning, however. During the late 1970s and 1980s he worked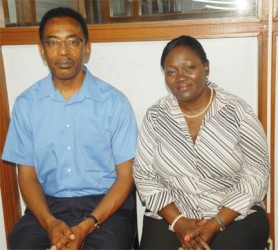 at data processing and systems engineering jobs and it was not until the end of 1999 that he partnered with another Guyanese, Bobby Vieira, to create Caribbean Cargo and Packaging Service.
Smith says that such success as accrued to the company was due as much to the "tremendous goodwill of the Guyanese in the community" as it was to the hard work of the two co-directors. Patronage of the company apart, supportive Guyanese also gave gifts of items that were critical to the shipping trade. He believes too that Caribbean Cargo thrived on its work ethic, high standards and trustworthiness; qualities without which, he says, "it's difficult to do well on a sustained basis in the shipping industry."
Smith says that even as he was seeking to help build Caribbean Cargo he was contemplating another business model, a leaner model free of some of the trappings that usually attach to shipping companies. It was out of that line of thinking that Sunshine International Shipper was created in March 2010. Consistent with his own business model he simply acquired office space and rented warehouse facilities. What he was aiming at, he says, was keeping his operating costs to a minimum and "competing on service rather than on price."
Those, he says, were amongst the years of what Guyanese remember as "the barrel trade," the pursuit that made many of the small shipping enterprises that sprung up in New York and Miami. Smith's own approach was to turn away from the hustle that informed the barrel trade and look more seriously at the container and air cargo ends of the business. It was his search for meaningful partnerships that led him since 2010 to establish a business relationship with the local company D&J Shipping. Owned by Guyanese businesswoman Lucia Desir-John D&J provides a local clearing house for the growing volumes of cargo routed to Guyana by Sunshine.
Over time, Smith has developed considerable acumen in the freight forwarding industry, continues to provide a service to Guyana and is "more than pleased" with his business relationship with his local partner.
When Stabroek Business spoke with Smith earlier this week he went beyond the business of shipping to Guyana from the United States, venturing into some of the social and cultural considerations that informed the 'barrel' trade. He believes the movement of barrels which grew steadily during the 1980s served as one of the critical links between Guyanese in the diaspora and those residing at home. Barrels, he says, "symbolized the concern" which those Guyanese who lived abroad—and were considered more fortunate—had for their less fortunate relatives at home. The trade, he says, has survived as a symbol of an earlier time.
These days, he says, the bureaucracy associated with the administering barrels shipped to Guyana has become far more bearable and he concedes that the decision by the Guyana           Revenue Authority to cease its previous "forensic searches of barrels shipped to Guyana" has redounded to the organisation's credit amongst shippers who still reflect ruefully on the bad old days when shipping a barrel to Guyana meant that you often ran the risk of encountering a hassle.
Around the Web