A multi-stakeholder committee comprising representatives of various state and non-state entities is to be convened shortly to examine appropriate technology to replace mercury in the gold-mining sector, Stabroek Business has learned.
News of the imminent creation of the technical committee comes just days after the announcement in the 2014 budget presentation that government would sink $1 billion into support initiatives in the gold mining sector including research into appropriate mercury abatement technology and methodologies.
Stabroek Business understands that the working group associated with the investigation into mercury-free mining methods will comprise representatives of the Ministry of Energy and Natural Resources, the Guyana Geology and Mines Com-mission, the University of Guyana, the Institute of Applied Science and Technology and the Guyana Gold and Diamond Miners Associa-tion (GGDMA).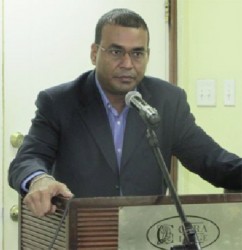 GGDMA Administra-tive Coordinator Colin Sparman told Stabroek Business earlier this week that the technical team will be studying the available technology "with a view to contemplating appropriateness and perhaps even giving consideration to modifying existing technology to suit Guyana's particular environmental conditions."
Late last year Guyana signed a new United Nations mercury convention though local officials have said that it could be at least ten years before the local gold industry becomes completely mercury free.
Discourse on the banning of mercury from the local mining sector has centred around the likely high costs of replacement technology and Sparman said that part of the mercury abatement initiative involved the eventual acquisition of the technology deemed appropriate for the sector and the sale of that technology to the local miners.
Part of the money earmarked for the mining sector in the 2014 budget is intended to be used to provide concessionary funding to local miners. A banking source told Stabroek Business earlier this week that government may have been unable up to this time to find a local commercial bank to administer what is intended to be a revolving fund for miners.
Meanwhile, Sparman told Stabroek Business that miners were "fully on board" with the government in what he described as an initiative "to take the sector forward."
He said that the price of gold appeared to be holding steady at around US$1,300 an ounce and the sector was "not unhappy" with that price. Sparman also said that while no production target had as yet been set for this year the industry was seeking to exceed last year's gold yield.
Around the Web