After Haiti's devastating January 2010 earthquake Mark Jacobs headed there, seeing the need to be relevant and seeking, simultaneously, to follow his own childhood calling.
Jacobs comes from a Stanleytown, West Dem-erara farming family. From very young, he says, he knew what his calling was.
Haiti has anchored him to his passion.  He has lived there, among ordinary Haitians and the suffering of the earthquake victims is a phenomenon that he appears to have come to understand intimately.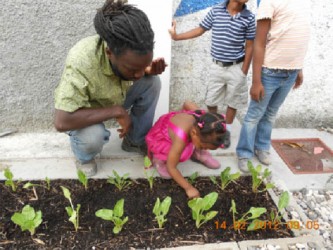 More than that, he understands the broader Haiti, the peaks of power and affluence and the troughs of abject poverty and his version of contemporary Haiti suggests that he might even feel that ordinary Haitians have resigned themselves to their lot. If Jacobs so chooses he could easily transfer his intellectual efforts to academia. The substance is clearly there.
He had attended President's College and chosen the business stream. He then pursued various levels of training in the United States in Business Administration, Financial Accounting and Human Resources Management. In an earlier life he had been self-employed, between 2000 and 2007 as a web designer and an internet marketing and advertising consultant, but has since gravitated to an unfussiness associated with his family tradition and his own personal passion for the land.
He turned 40 yesterday and has charted a course for his life, which involves his real calling, agriculture. These days, he prefers to be known as a farmer.
Jacobs went to Haiti looking for an entrée into farming with a Shade house Kit comprising much of his luggage. He went to a devastated Haiti with the idea that in the circumstances food would be a priority.
After that he worked with various farming projects targeting, in the main, orphanages, school gardens and school-feeding programmes. He does not dwell on his work from the standpoint of successes and failures.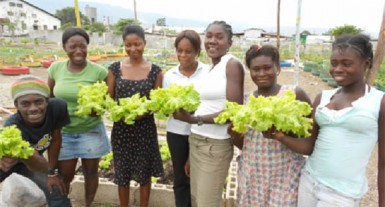 One gets the impression that Haiti is a country of an unending succession of crises and emergencies and that the preoccupation with solving problems leaves sorry little time for personal aggrandizement even though Jacobs says that Haiti's earthquake has attracted and still attracts its own fair share of shysters.  From his standpoint, it is a matter of the positive outcome of small, cumulative efforts.
Over time, Jacobs made himself useful in Haitian communities. He lived cheek by jowl with earthquake victims and married his organisational skills with his passion for agriculture to help make a difference.
Jacobs talks about a way of life in Haiti driven by the philosophy of necessity being the mother of invention. "Poor Haitians," he says, "don't buy peanut butter. They make it." He relates the story of a man who owns a machine that grinds the nuts. People take their own nuts and their own particular additional ingredients like pepper, salt, sugar et al so that the local manufacturer ends up producing several types of nut butter.
Jacobs worked in Haiti as an urban gardening trainer and makes reference to creating a 500-square foot rooftop garden at a private residence. Much of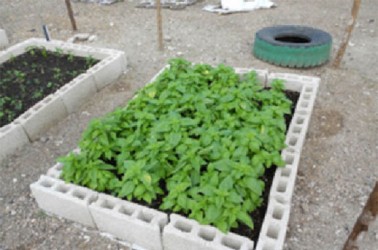 his time was also spent growing vegetables for sale and community consumption in Haiti.
Jacobs says he grew accustomed to managing the cultivation of 10 to 15 different crops at any one time, particularly working with kindergarten and primary school children. Teachers and students also benefited through training in farming techniques, at an organic vegetable garden. At the same time, the garden is managed as a commercial venture.
He will presently continue training ten Haitians, five men and five women in sustainable urban agriculture and management of large urban farms.
Jacobs articulates his understanding of the circumstances of the Haitian society and economy with the fluency that reflects a combination of an intellectual understanding of the country coupled with the practical experience of having lived there "among ordinary Haitians." His concerns for Haiti, he says, include what sometimes appears to be a tiredness of the monotonous regularity with which tragedy strikes and a feeling that the next catastrophe is not far away. Still, he says, Haitians have a strong sense of their own survival. He is animated about the country's future, wondering aloud as to whether all of the subsidies and the sympathetic attention that Haiti is receiving from the United States and from myriad charitable entities might not be hurting more than helping. Jacobs believes, or so it seems, that excesses of subsidies and food aid can sometimes strangle that spirit of self-reliance which Haitians will ultimately need if they are to survive. Personally, he prefers the approach of providing a net and helping teach Haitians to fish.
Around the Web