Five Canadian companies that specialize in the importation and distribution of fresh fruit and vegetables and agro-processed foods are due to arrive in Guyana on Monday on a four-day buyers' mission.
Organised by the Canadian International Development Agency (CIDA) through its Trade Facilitation Office (TFO), the initiative will enable the Guyana Manufacturing & Services Association (GMSA) to connect the visitors with local manufacturers of processed foods. The local office of the Inter-American Institute for Cooperation on Agriculture (IICA) will coordinate arrangements for meetings with local farmers.
The Canadian buyers: M&M Twins Ltd and Atlantic Trade International, ANRA Imports Inc, Bedessee Imports Ltd, and Kiskadee Ventures Ltd are based primarily in Montreal and Toronto and will be seeking to source sauces, seasonings, noodles, beverages, spices, preserves, coconuts and coconut products, cassareep, fresh and frozen fruits, fresh fish, edible oil, peas and pickles locally.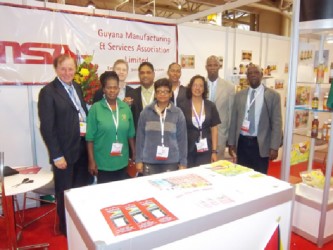 Stabroek Business understands that three of the five visiting buyers are first time patrons, while the others have previously imported and distributed Guyanese craft and wood products, religious items, cooking pots and agro foods in Canada.
This mission will include visits to the prospective exporters' facilities and the TFO has committed to supporting the commercial negotiations during and after the mission as well as helping to generate new market linkages for local producers.
Stabroek Business has learnt that the visit is an extension of a project that seeks to grow external markets for local produce. Ten Guyanese producers, including the Kuru Kururu Growers Cooperative Association, have been participating in the project which began in 2012. The agro-processors involved in the project include Tandy's Manufacturing, Prestige Bottling Enterprise, Jet's Enterprise, Original Juices and Henvil Farms. The latter two are located in the Pomeroon, Essequibo. Sterling Products, Mohan's Fruits & Vegetables, and Nand Persaud Company in Berbice are also participating in the deliberations that will ensue during the mission.
The initiative also seeks to help local participating enterprises
benefit from technical support by Canadian agriculture and quality standards experts. The most recent visits here by Canadian experts were in August last year and January this year.
The GMSA says that during these interventions, the local enterprises "were subjected to rigorous examinations" while "owners received direct guidance on product handling" in order to help boost the readiness of their products for the export market. Local producers also benefited from orientation in traceability, good agricultural practices, good manufacturing practices and acquisition of international certification, including Hazard Analysis Critical Control Point (HACCP) certificates. The locally-based Eureka Labs was also involved in the exercise. Stabroek Business understands that Eureka is currently being made ready to conduct food and water analyses, which are a necessary qualification component for access to Canadian markets.
Stabroek Business has learnt too that CIDA has already committed funds to assist in the process of helping local producers meet the qualifying standards for accessing Canadian markets.
Around the Web