By Joycelyn Williams
The third of the eight Millennium Development Goals set by the UNDP is to promote gender equality and empower women. There are three special areas of interest as far as this equality is concerned: these are governance, participation and access to education and equality in employment.
We have made significant progress in all three areas over the last few years, particularly in the first two. Almost 30% of parliamentarians in Guyana are now female with women making equally scholarly and impactful contributions in the debates and otherwise in the work of the parliament. Guyana has even had a female deputy speaker in the person of the late attorney Debra Backer.
There is gender parity in primary and secondary education and it has been reported that there are twice as many women in tertiary education as men. Based on the foregoing one might have thought that this same parity would extend to the employment of women. This is not the case.
We need to make a few deliberate choices to have a little more gender equality in the area of employment not just for the sake of equality but because across the world, women have been sought after, in some key institutions to calm storms and bring a fresh approach to the world of business. We hope that this deliberate policy of picking women can also be used in Guyana to bring some fresh approaches in certain areas of the nation's business. It would seem that mixing the genders or, as a rule, and alternating them would make good for managing the business environment.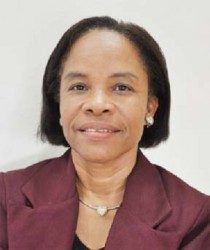 At the International Monetary Fund, after the scandal associated with the previous managing director, Christine Lagarde was brought in to restore the image and credibility of the IMF and has done a wonderful job. She has proven adept not only at managing the IMF staff, but also the world economy, having previously been Finance Minister in France.
Over in Trinidad and Tobago, Prime Minister Kamla Persad-Bissessar has held her Cabinet to high standards, imposed a nationwide curfew a few years ago that dared to dictate when all citizens should go home and has restored Trinidad and Tobago to decent standards of governance. A third example is President Dilma Rousseff in neighbouring Brazil, who has also had a strong record in dealing with corruption. In addition, my research reveals that many countries have also dared to give the position of Chief of Police to a woman. Norway, Liberia, Guatemala, Nicaragua and recently South Africa have all had female police chiefs.
There are many areas of business and public life in Guyana, where tipping the balance towards women would be useful to achieve different results in stewardship. I suggest that next time around we have among the nominees for the positions the same number of men and women.
Perhaps at the level of the Office of Prime Minister we as women should begin to lobby for one of those two positions. It would be good too to see women functioning in positions such as Traffic Chief.
As I have noted this tipping towards gender balance is not just for the sake of equality; it is more intended to tap into the special skills and acumen that women have for stewardship in their homes, and to have that translated into public governance. It would be useful to gauge the results in each of the cases mentioned.
Around the Web