When we spoke with bureaucrat turned businessman Schulder Griffith on Wednesday he was preoccupied with explaining a marketing strategy that is designed to have his new venture grow in what he believes is a potentially lucrative market.
We had been surprised by the fussiness of the Midtown Chariot, the carefully decorated dining room, the furnishing that appeared set for fine dining and the discreet bar that communicates a message of austerity rather than the customary all-night binges that some competitors offer.
Griffith, who, up to just over three years ago had been the Clerk of Markets, a position that put him in administrative charge of all of the city's markets, says he is happy with Robb Street too. "It's sufficiently central and from here we can attract a range of customers," he said.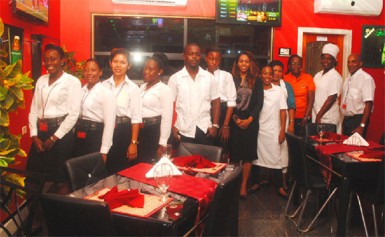 Upstairs, the Midtown Chariot is an 11-room hotel, which Griffith says he wants to make available to locals as much as to visitors. He has in mind visitors from outside of Georgetown, shoppers, businessmen or perhaps teams of sportsmen and women on assignment in the city.
Sitting atop everything is the Sky Garden, an indulgence for a regime of membership which the facility will implement.
Griffith believes that the most effective form of marketing reposes in consistently good service and high standards and he wants his culinary offerings to match the quality of the decor.
That is why, he says, he has paid particular attention to what comes out of the kitchen. What comes out is prepared by a staff of trained personnel, including Guyanese and Cubans. And, Griffith says, "we'll serve you a Chinese or an Italian meal if that's what you want."
His aim, he says, is to popularise the place; to render it accessible without creating the impression that it embraces low standards. The cost of a sit down meal is $1,200 but Griffith says that the Midtown Chariot will deliver a meal to any member of staff of the entities with which the Chariot is now talking a deal.   "If you show up here with your workplace ID card we'll let you have your $800 meal as well," he said. That, he said, is part of his way of building a base.
Only part of the staff of about 16 were there on Wednesday afternoon. Others were due in later in the evening. Throughout the interview we were unable to stem the flow of Griffith's apologies for the Guyana Power and Light Company's indelicate timing.
He was concerned that the ambience of the Midtown Chariot might somehow be diminished in the half-light of the early afternoon. We had, however, seen enough to make up our minds though he never stopped insisting that a return visit to see the full effects of the facility was "a must."
Comments

Investment proposals in several sectors of the Guyana economy were facilitated by GO-Invest last year.

Cevons Waste Management and Puran Brothers have won the full backing of much of the private sector.

The country's remaining standing mangrove forests are continually under threat from "a range of natural and man-made factors".

A leading UK-headquartered market research firm, Technavio, is predicting that from 2016 and up to 2020 the projected growth of the global coconut water market is likely to be close to a whopping 27 per cent.

Nothing, she says, pleases her more than the modest achievement of Team Guyana at the recent international robotics tournament in Washington and the occasion it afforded for a celebration at home.