– coconuts, rice, cassareep in demand
Guyana's lack of export readiness continues to impede serious growth in the volumes of the country's food exports to Canada at a time when the demand for local products among Guyanese and West Indians in that country is on the increase, Consultant to the local Trade and Facilitation Office (TFO) Bertrand Walle told Stabroek Business earlier this week.
From an acute lack of freight capacity and inefficiencies in the maritime industry to difficulties associated with local food exports complying with Canada's demanding food safety standards, Guyana "still has a long way to go," Walle said on Monday in the presence of representatives of three of the five companies spending a week here, seeking to strengthen existing links or forge new ones with local farmers and agro-processors.
The high point of the visit was expected to be face-to-face meetings with local producers and rice, coconuts, cassareep and pepper were among the items on which the visiting businessmen said they hoped to close deals before returning to Canada. Walle said he expected that some orders would be made by the end of the visit.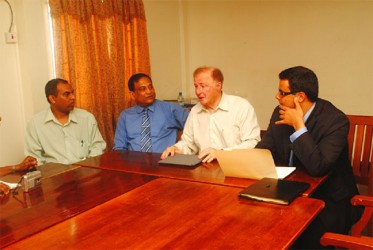 Clearly concerned with life beyond whatever business is done during the visit, Walle told Stabroek Business that part of the mission of the visit was to engage local officials in discourses aimed at addressing issues that had longer term implications for the movement of goods between   Guyana and Canada.
It was unlikely that the vexed issue of cargo capacity between Guyana and Canada would have been resolved by the end of the visit, but Walle said other issues were likely to be raised this week. Not least among these was Guyana's capacity to undertake the demanding tests required to ensure that food imports into Canada were in compliance with the country's standards.
At last Monday's briefing with the Stabroek Business the three businessmen present said that while they were keen to do business with Guyana they were also concerned with the country's export readiness. Questions about the sloth in the processing of Customs documents, lack of facilities for quality testing and inefficiencies in the local maritime regime were expected to surface during the deliberations this week.
In the area of shipping, Walle said there was particular need to pay remedial attention to issues that included "loading and inspection of containers." According to Walle, Guyana has "a lot of work to do to deal with various areas including shipping containers with no infestation." The TFO is currently closing in on the end of a three-year programme funded by the Government of Canada. Over the period, various experts have worked with buyers, exporters and local organisations to maximise exports to Canada. "Different experts have come here to seek to ensure that Guyana is export-ready in terms of quality, in terms of regulations and in terms of laws," Walle said. He added that while "some local companies are export-ready, others are not. Compared with other countries in South America there is still a lot of work to be done."
Meanwhile Walle told Stabroek Business that the visit could open up possibilities for access to the Canadian market for locally produced organic products, He said that at least one of the visiting buyers was interested in organic goods though he added that Guyana was not positioned to provide organic certification at this time.
Around the Web