The name of yet another female Guyanese businesswoman has appeared on the list of top ten nominees for the United Nations Conference on Trade and Development (UNCTAD) Women in Business Awards.
Tracy Antoinette Green-Douglas, owner of the popular Pandama brand of wines has been nominated amongst nine other female entrepreneurs from other countries and is now eligible for the prestigious UNCTAD Award. Green-Douglas follows local craftswoman Irene Bacchus and Shipping Company Chief Executive Officer Lucia Desir-John who were named amongst the top ten women competing for the award in 2008 and 2010, respectively.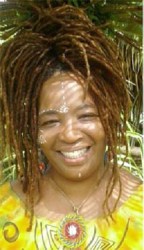 Apart from her mainstream entrepreneurial focus on the production of fruit wines, Green-Douglas is also known for the production of soaps and creative products utilizing local raw material. Green-Douglas participated in EMPRETEC's hallmark programme, the Entrepreneurship Training Workshop in 2009.
The final three winners will be announced during UNCTAD's World Investment Forum which will take place from 13 to 16 October 2014 in Geneva. The other nine finalists are from Argentina, Nigeria, Jordan, Mauritius, Senegal, South Africa, Zambia, Zimbabwe and Brazil.
Around the Web