Following last Thursday's talks in Georgetown with President Donald Ramotar and other local officials including Education Minister Priya Manickchand,   Samsung Head of Ente-rprise Division Marco Osio told Stabroek Business that the company is aiming to set up Guyana's first Smart Classroom by August this year.
"We are satisfied that President Ramotar is supportive of an initiative that will enhance the delivery of education in Guyana by providing a learning method that is efficient and, over time, less costly than the conventional method," Osio said. He added that it was a very encouraging meeting.
He said of particular significance was that Samsung was able to present Guyana with the country's first Smart Class in a school chosen by the Ministry of Education.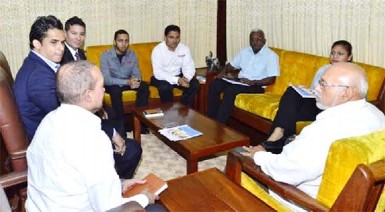 Osio told Stabroek Business that he believed the initiative was "the beginning of what we hope will be a long and successful relationship between Guyana and Samsung."
Michael Mohan, Chief Executive Officer of Starr Computers, the local distributor for Samsung products and services, said Starr will partner with Samsung to create a Smart School Centre at its Brickdam complex that would provide various services to the Smart Classroom and to the anticipated expanded Smart School regime which the partnership seeks to create in Guyana in the longer term.
The Smart Classroom which Samsung will be donating to Guyana will comprise 40 Samsung Tablets, one Teacher Personal Computer, one 65' White Board Monitor with Touch Pad and all of the access points and infrastructure to enable the classroom to be prepared for communication broadcasting. Osio said the package will also include basic teacher training to be provided through Samsung's partnership with Starr Computers and "ongoing support on all of the hardware and all of the software that Samsung is putting into the classroom."
Osio explained that in a typical school of 20 to 30 classes, the system should be aiming at about 10 to 15 per cent of that school population having access to the Smart Classroom at any one time. "Here in Guyana a typical school might have one or two Smart Class Rooms per school. In an eight-hour work day that would accommodate eight different classes in two different classrooms to allow for all of the students to rotate." The tablets have single user sign-ons for multiple student use and they can carry multiple subjects. "In essence one Smart Classroom can, in an 8-hour session, deliver lessons to 240 students in a single day so that in a week the entire school can experience the Smart Classroom," Osio told Stabroek Business.
Mohan said that while it was "more than likely" that the school in which the pilot Samsung Smart Classroom would be located would be in Georgetown, Starr would be seeking to ensure that students from further afield have a sense how the Smart Classroom would impact on the education system as a whole. "Once our Smart School Centre is up and running we would be seeking to have members of the business community and schools come over to our complex and experience and use the tools that are part of the Smart Classroom's education delivery system," Mohan said.
And according to Mohan while Samsung was collaborating with Starr to make the first moves "in the direction of the creation of Smart Schools in Guyana" he hoped the private sector as a whole would invest in what he described as "a project that is directly connected with the future of Guyana."
Asked whether the advent of the Samsung Smart Classroom here might see the start of a debate between adherents of traditional text book teaching methods and the current IT-driven approaches to delivering education Osio told Stabroek Business that debates of that kind could be expected "in new markets." Osio said Samsung was not unaware nor unmindful of the contribution traditional tools for the delivery of education have made and continue to make to intellectual development. "What we cannot deny is that we are witnessing culture change across the world. 'The communication tools used by children today are certainly different from those that were used a generation ago," Osio said.
Around the Web