The decline in the number of guests that drop by Bartica's Seventh Avenue Hotel looking for a room has not been sufficiently significant to cause the establishment's Proprietrix Sonjie De Barros to worry needlessly. But it has been marked enough for her to take notice.
De Barros told Stabroek Business earlier this week that the 50 per cent occupancy – a figure which most hotel owners would give an eye tooth for – which her 10-room hotel was enjoying on Monday was below average.
Both Bartica and the Seventh Avenue Hotel have been 'spoilt rotten' by the township's strategic location and the surfeit of business activity from which it has benefited in recent years. Bartica is the gateway to the interior, or, as De Barros puts it, "the closest piece of civilization to the country's gold wealth."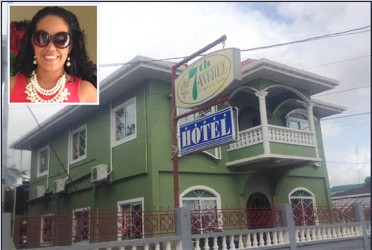 As such, the economy of Bartica is inextricably linked to the price of gold. De Barros doubts that there is any business in the community that isn't, in one way or another, linked to the gold industry, not least the hotel industry in which she is an investor.     Her guests, for the most part, are intrepid Brazilians with a single-minded interest in gold. Some, "hundreds," De Barros said, have simply made their homes in Bartica to facilitate easy access to mining claims. There are others, however, who are itinerant and it is these that are the bread and butter of the Seventh Avenue Hotel.
To remain competitive De Barros has maintained what in the hotel sector is a delicate balance between price and service. She has opted for the affordable comfort of a restful sleep over so that her rates range from an upper limit of $10,000 for an air conditioned room to between $6,000 and $8,000 for rooms cooled by electric fans. All of the rooms are self-contained and include small eating areas.
Part of Bartica's problem is that the community has grown accustomed to the spinoffs of years of high gold prices. So that what for some is nothing more than a mild inconvenience, is, for Barticians, hard to take. De Barros talks about "the business of commerce" and the upsurge in construction that reflects the community's transformation in recent years. It is not so much that the Bartica of the past five years or so has come to a grinding halt. It is that business has slowed and because of the giddy heights that the town's economy had once reached Barticians are baffled rather than excessively bothered.
The Seventh Avenue, however, soldiers on. De Barros's confidence and optimism persuade her that things will "turn a corner," that "Bartica can never go back to what it was." In De Barros's own mind the ebb and flow of the Seventh Avenue's fortunes is a microcosm of the fortunes of Bartica and, by extension, of the country's gold industry.
By the same token, she believes that all of these will weather the storm. Seventh Avenue started from scratch about three years ago, providing lodgings for people visiting or passing through Bartica. De Barros believes that the accomplishments of a small hotel must depend on good customer service and that is what she says she offers. No meals are served at the Seventh Avenue, "but I can arrange meals for my guests once they give me advance notice," she says.
De Barros, it seems, has given considerable thought to the techniques necessary to market a small hotel: minimizing the bureaucracy, creating a homely environment and "generally looking after our guests." It is an approach which, she says, has paid dividends. The Seventh Avenue now thrives on return guests and its clientele extends from visitors from interior locations to guests from coastal Guyana. There are no protocols or packages. You arrive, you stay for whatever period you choose then you leave after paying.
While De Barros says she cannot speak for the various other hotel proprietors in Bartica, she notes that the decline in commercial activity "is no secret." Nor has there been—at least up to this point—any significant diversification away from those industries that are joined at the hip to the gold industry. Bartica provides equipment, supplies, accommodation and entertainment for the miners. Gold has been good to the community and the community is returning the favour.
These may be difficult times but De Barros plans to keep faith with Bartica. If the owner of the rented premises agrees to sell that is where her expanded hotel Avenue will be located. If not, she will relocate to another place "perhaps within two years or so." Either way, De Barros is not about to give up on a community that has been good to her. As far as gold is concerned she remains convinced that sooner rather than later, the worm will turn.
Around the Web