Twenty-five local hotel and resort owners and managers are to participate in a five-day workshop on 'Marketing Techniques for Small Hotels' targeting middle and senior management drawn from properties with 75 rooms or less.
The workshop which is being staged by the Caribbean Development Bank's Caribbean Technological Consultancy Services (CTCS) Network in collaboration with the Tourism and Hospitality Association of Guyana (THAG) will be held from June 2- 6, 2014 at the Cara Lodge, beginning at 09:00 hrs each day.
The workshop which comes against the backdrop of recent calls by THAG for government to demonstrate a higher level of commitment to the development of the tourism industry will be the first of its kind to seek to respond to the surfeit of small hotels and guest houses that have mushroomed in Guyana over the past seven years. Enticed by government through duty-free concessions on equipment associated with the construction of hotels, several investors poured money into small hotels and guest houses in anticipation of a surfeit of visitors for Cricket World Cup in 2007. Not only did the number of visitors fail to materialize but since then occupancy levels have failed to match expectations.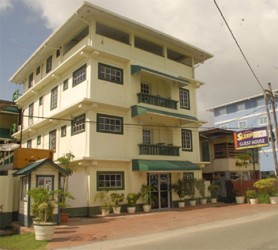 Information provided by THAG indicates that the workshop has been provided, "in response to requests from small hotel operators and as part of efforts aimed at contributing to sustaining their operation."
Some local investors in the hospitality sector have not been known to have any significant experience in hotel management and there are no training facilities for hotel management in Guyana.
The THAG release on the five-day workshop says that CTCS' interaction with small hotels operators in the Caribbean "has revealed that several small hotels operate without creative or strategically developed marketing or public relations strategies and, as such, they do not put into practice various fundamental aspects required to adequately and effectively promote and market their products and services to maximise sales." The release further says that next week's workshop was taking place against a backdrop of small hotels' lack of experience "in the use of modern day marketing techniques such as social media," deficiencies which, according to the release, "often result in unrealised opportunities and poor product delivery." It adds that these shortcomings "adversely impact on the ability of these tourism businesses to stay competitive in the highly diverse and constantly changing tourism industry."
Around the Web