Differences of opinion have surfaced between President of the Tourism and Hospitality Association (THAG) Christopher 'Kit' Nascimento and Roraima Airways Chief Executive Officer Gerry Gouveia, a former head of THAG, over recent remarks made by Nascimento about the state of the sector and his perception of the government's attitude to the industry.
Nascimento had said in an interview with this newspaper two weeks ago that unless tourism became "a line item" in the country's budget the government commitment to the industry would remain in doubt and that the political administration's posture on tourism was reflected largely in the realm of "rhetoric."
Gouveia, a major investor in the local tourism and hospitality industry, told Stabroek Business that while he was conceded that "there is much that is wrong with the sector" he believed that to suggest that government's interest in tourism was confined to "rhetoric" was not sustainable.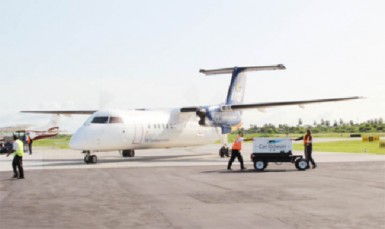 "I have my concerns and they are important ones but I wouldn't quite go that far," the Roraima boss said. He pointed particularly to what he said were "the considerable efforts" which the government had been making to seek to secure the services of a major airline to increase the movement of passengers between North America and Guyana. He added: "There is actually an official awareness of the importance of reliable air transport to increase in the volume of visitors." Gouveia said the recent introduction of the US-based Dynamic Airlines to Guyana to provide fights to the US and Canada from Guyana four times weekly "is a development for which government must be given considerable credit."
Asked about the observation made by Nascimento that government needed to invest aggressively in marketing Guyana abroad, Gouveia said that he had, "on more than one occasion," gone on record as saying that government needed to invest significant sums of money in marketing Guyana abroad. "It would be my guess that maybe half the world still does not know where Guyana is. A marketing exercise of that magnitude would take time and would require millions of dollars and the recruitment of expertise," Gouveia said.
Nascimento criticized what he told Stabroek Business was government's seeming indifference to improving some of the infrastructure associated with the growth of the tourism industry including the failure to upgrade interior airstrips. The THAG President had also indicated that the government could not expect its stated support for the industry to be taken seriously unless tourism became "a line item" in the national budget.
In response to that assertion Gouveia said he believed that considerable sums were actually allocated to tourism every year but they may not be listed under a single line item. "Roads, waterways, airstrip repairs and a range of other things on which monies are spent are actually tourism-related items," he said.
Gouveia told Stabroek Business that as far as the tourism sector was concerned "while more can be done and while what is being done can be done quicker and better, I can't say that I believe that all of the problems are due to official indifference."
Responding to Nascimento's call for bigger, better airstrips to allow for bigger aircraft to move larger numbers of visitors to interior locations Gouveia said that while there were "considerable concerns" about the need to have interior airstrips maintained regularly "it is not as though the strips are ignored. In fact I recall that years ago we landed larger aircraft with more passengers on those airstrips."
In the light of Nascimento's comment on the limited financial resources allocated to the Guyana Tourism Authority (GTA) Stabroek Business sent a copy of the article to GTA Head Indranauth Haralsingh. However, we were told that he was out of the country and that no one else was authorized to comment on it.
Around the Web