Girendra Persaud divides much of his time between developing websites and other IT related products and services and lecturing in the Information Technology Depart-ment of the Faculty of Natural Sciences at the University of Guyana (UG).
His focus in the latter pursuit is on developing a human resource capacity which he says will become increasingly relevant to the country's developmental needs in the period ahead. Here, the portents would appear to be promising. Everything that this newspaper has heard about UG's Department of Computer Studies suggests that it produces capable graduates and Persaud, who is currently pursuing studies that will lead to a Masters Degree in Business Administration says that plans are afoot for the introduction of post graduate studies in Computer Science at UG.
His own faith in the quality of the students he helps prepare for the world of work reposes in the fact that his own company offers them employment.
GX Media focuses on the provision of services the relevance of which is now unquestioned in a country and an economy that is seeking out every conceivable means through which to market the goods and services which it produces.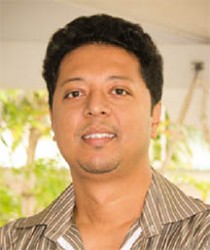 Everyone – from corporations to churches – wants to own a website. It is, Persaud says, a trend that derives from pressures to sell, to grow, to spread whatever good or service or idea that the owner has. Simply put, websites are one of the most sought after additions to the bewildering array of communication tools that have long been at our disposal.
It is, too, a discreet sector, having no need to promote itself in huge edifices and exotic advertising signs. "My own office is in my home, not far away from my bedroom," Persaud says.
GX Media, the company which he owns, is situated at Hibiscus Place, Blankenburg, West Coast Demerara. Before that he had completed a BSc in Computer Science at UG between 1997 and 2001. After UG he had lived and worked in St Maarten.
The local demand for websites, Persaud says, is a manifestation of the increased competitiveness in the business sector and a continual search by entrepreneurs to secure a competitive edge. That derives, he says, from ever-increasing numbers of business enterprises that are emerging in the various sectors of the Guyana economy.
He doubts that any local company worth its salt is without a website.
For hotels, he says, websites have become a must. "People all over the world are always looking for hotels in other parts of the world," he notes.
Websites have become key communication tools for restaurants and snackettes too. They are among the most competitive business houses in Guyana.
These, however, are by no means unique in this regard. Persaud says that even small and medium-sized businesses are online, having now gotten over the phobia associated with the belief that websites are unaffordable.
Persaud says there is an acute current awareness even amongst the smaller enterprises that US$500 for the design and development of a website is a relatively small investment when account is taken of the role of that website as a communication tool.
Beyond its role as the provider of the service, Persaud says, GX seeks to market the website in much the same way that other products and services are marketed. "We talk to potential customers through our own websites which include blogs on the value of websites. Some companies pay as much as $50,000. It all depends on the number of hits you get. One of the things that we say to our customers is that with your website you're always open for business."
Persaud says that here in Guyana as much as anywhere else in the world websites have provided an additional income stream for traditional electronic and print media houses. He says that those media have long conceded the value of the audiences on the information superhighway. It is, he says, a more efficient and effective way of realizing real time communication with large audiences. Beyond that, local media houses have been able to add significantly to their overseas audiences through their websites. He estimates that around 90 per cent of hits on media websites come from overseas audiences.
The market for websites, however, may already be undergoing a measure of transformation. "We may already be reaching a saturation point in the Guyana market and so we have begun to look at other markets," he says. "We have looked at Suriname and Trinidad and Tobago. The problem in those countries is that there is a great deal of competition. There are a number of people trying to get into the business [and] there is a high degree of competence both here and elsewhere in the region. Some of our jobs come from other website developers who pass them on to us. We have also had clients who had gone to other developers before coming to us. We have also been able to get some business in Canada."
Around the Web