Hoapei Yang is a 26-year-old China-born Guyanese who has just created skilledguyanese.com, a website that seeks to significantly improve the process of bringing employers and job-seekers together. The site allows skilled persons to discover and apply for job opportunities in local entities.
Yang says that he wants the website to maximize the opportunities open to skilled Guyanese to take up positions at home.
The former Mae's Secondary and University of Guyana student hopes that his website will prove as attractive to public and private sectors entities seeking to attract qualified specialists in various disciplines as it will to job-hunting university graduates and remigrants.
Skilled persons, Yang says, can visit the website to determine which entities are hiring and peruse their lists of jobs. The site allows for persons to create resumes on-line and use these to apply for several jobs simultaneously. When the prospective employer opens and views a submitted application the applicant receives an electronic signal that his application has been seen. Yang says he is aware that some job seekers who have used the site have been contacted and some hired.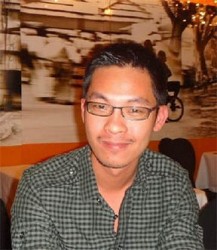 According to Yang, skilledguyanese. com has already entered into arrangements with high-profile companies seeking to recruit staff. "We want to engage companies of all sizes. If they have jobs, we will advertise them," he said.
The site also allows employers to post profiles of their organisations to enable prospective employees to acquire basic facts about the entities within which they plan to seek employment.
Once a job application is received, the company in questions receives an email and can then view the complete application online. The applications viewed online are print friendly.
A dedicated web designer, Yan is currently working full time to optimise the range of services that skilledguyanese. com can provide. The site is currently developing a search engine that would enable registered companies to locate and connect with persons with combinations of skills, qualifications and experience. "This means that skilled persons who have opted in to be searched will always be able to keep the door open for new opportunities. Of course, persons can also opt out of this feature."
"It's tough at the beginning," Yang says. "The biggest challenge is to recruit companies to try the website. Invitations are being sent to companies every day. Even though the website is currently free, some organisations may not yet be comfortable with the idea of leveraging the internet to find skilled people in Guyana. On the other hand we have received feedback from companies indicating that they have received more applications via our website than through any other medium."
Yang says that at the end of May the site had secured 826 skilled persons and 2,600 Facebook fans. Forty organisations, including several international ones are now subscribing to the site. The site has received 216 job applications and had 30 jobs posted.
Around the Web