Artistic Line was created out of the energy and determination of Jennifer Holder, a mother of three children and the owner of a modest multi-purpose enterprise. It began as a salon in a renovated section of her Tucville home.
Today, the expanded facility also serves as an internet café and document centre and a game shop. Over time Artistic Line has attracted the patronage of a community that includes several schools and social groups.
Last Monday, Holder was honoured for her entrepreneurship by Venture Out, a collaborative initiative undertaken by EMPRETEC and Republic Bank Guyana Ltd to woo women into the world of business.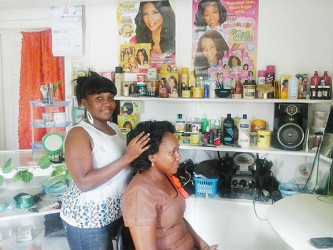 Hers was selected as the best business proposal from amongst several submitted to the Venture Out project secretariat. It articulated a proposal for the expansion of the salon and internet and document centre and the creation of a game shop to add to the pre-existing services.
As the best business proposal in 2013, her reward was Republic Bank's approval of her loan application at a preferential rate of interest.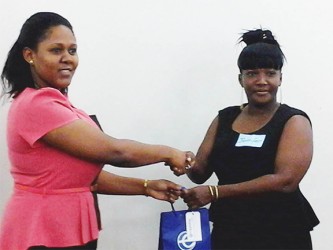 Earlier this week, Holder told Stabroek Business that the document centre was the hub of her enterprise. Apart from the role it plays in supporting the research pursuits of students in the community, Artistic Line provides e-mail handling services primarily for contractors. Every evening Holder provides informal tuition—primarily homework support—for a small group of children from the community.
It is a long way from her sojourn as an employee in pursuits that ranged from serving as an encoder with the Guyana Elections Commission (Gecom) to functioning as a confidential secretary in the Ministry of Housing. Her earlier academic pursuits have turned her into a kind of all-rounder. She attended North Ruimveldt Multilateral School, Critchlow Labour College and Computer World. Those pursuits apart, she has done courses in floral arrangement and cosmetology. On the day Stabroek Business interviewed her Holder was contemplating a business orientation programme with the Institute of Private Enterprise Development (IPED).
Holder is buoyed by her recent recognition, having emerged from challenges that included invasion of her premises by thieves in 2011. "They took everything, computers and printers," she said. She had bought the equipment with her first loan from the Guyana Bank for Trade and Industry under the Women of Worth (WOW) project.
Further consolidation is on her mind though she plans to do so in modest, incremental steps. In the short term, she is seeking to upgrade her present copying machine.
Attendance at programmes like EMPRETEC's Venture Out has taught Holder some of the basics of managing a business. It is a transformation which she believes has impacted on the fortunes of her business. Equally important is that what she does is of valuable service to the community to which she belongs.
Around the Web