President of the Georgetown Chamber of Commerce and Industry (GCCI) Lance Hinds has told Stabroek Business that the creation of a culture of entrepreneurship in Guyana must be reflected in an instinctive inclination among young people to establish their own businesses.
Hinds said that while young university graduates were always likely to seek paid employment it would be encouraging from a business perspective if more of them were to "back themselves" to succeed in business. Asked about the constraint of startup capital likely to confront the potential young entrepreneurs, Hinds said while it was true that it was an issue it should not prevent young, qualified Guyanese from pursuing the option of self-employment.
The Chamber President disclosed that in August, the organisation was hoping to collaborate with several youth organisations including Youth Challenge to host a forum at which small business aspirants and qualified young people will be sensitised to the virtues of starting careers in business.
During his second extended interview with this newspaper since his election to the presidency of the Chamber earlier this year, Hinds identified five "pillars" – expansion of entrepreneurship, expansion of innovation, SME growth and expansion, investment/funding and ICT for development – which he said would be the focus of the Chamber in the period ahead.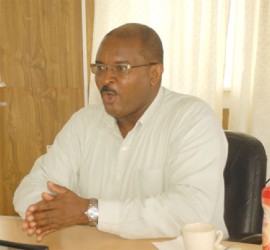 And according to Hinds, while there is "definitely" a strong nexus between the social and political climate and the growth of the business community, the private sector cannot sit around and wait for a perfect climate in which to function. "We need to get our own show on the road whilst pushing for improvement in the wider climate… We could say we're not moving. On the other hand we could continue to try for a better climate while we get on with what we have to do," Hinds said.
And according to Hinds more could be accomplished if "in a much broader sense than is the case" the private sector could be "a genuine stakeholder" in determining national direction.
"I don't know that the private sector can truly say that it is a stakeholder in the sense that it wants to be. There have been some specific successes in terms of our interaction with government but on the whole the private sector would have wanted a bit more say so," he said.
Meanwhile, Hinds told Stabreok Business that he believed members of private sector support organisations continue to have a great deal of interest in the work of the organisations. "What we at the Chamber have found is that our members have different types of interests that depend on their particular business pursuits. Merchants, for example, would have an interest in issues that have to do with customs clearance and import regulations. On the other hand people who are in the ICT business might be more interested in telecoms and intellectual property issues," he said.
Not for the first time the Chamber has conceded that its initiative to create a membership window has not been a success. "The truth of the matter is that that initiative has fallen below expectations. If you ask me why, I'm not sure but then it may well have something to do with the fact that small businesses are used to doing things on their own. That has to change since I believe that there are ways in which the Chamber can help small businesses grow," Hinds said.
And according to Hinds, the GCCI will be seeking to engage the Small Business Bureau created under the Small Business Act with a view to determining whether there might be "collaborative possibilities' as far as the growth of small business is concerned. "Part of our focus is on reaching out as far as our capacity allows to work together with those organisations in those areas where we might have a common agenda."
Comments

The unchanging dilemma of an uncompetitive   local manufacturing sector continues to be manifested in the persistence of high electricity costs coupled with a notoriously unreliable power supply system and high costs of imported raw material inputs, among other things, Former President of the Guyana Manufacturing & Services Association (GMSA) Ramsay Ali who is also Chief Executive Officer of Sterling Products Ltd.

With the global coconut industry now offering numerous potentially lucrative opportunities to the manufacturing and agro-processing sectors, the local company, Sterling Products Ltd is signalling its intention to utilize the sector to enhance its own expansion and diversification programmes.

It had always appeared to be the case that the assurance given the citizenry by Town Clerk Royston King in a statement last week that following the withdrawal of services by City Hall's substantive service providers, Cevons Waste Management and Puran Brothers, the City was putting in place contingency measures to manage, in an environmental friendly manner, the city's waste disposal, was little more than just another example of the municipality getting ahead of itself.

(Trinidad Guardian) China Railway Construction Corporation (CRCC) has been awarded a $221.7 million contract by the National infrastructure Development Company (Nidco) to build the controversial Curepe Interchange, the state company's chairman Herbert George has confirmed.

Gold Prices for the three-day period ending Thursday August 17, 2017 Kitco is a Canadian company that buys and sells precious metals such as gold, copper and silver.