While Caribbean beneficiaries of Venezuela's estimated US$8 billion PetroCaribe oil subsidy remain largely quiet on their energy options in the event that the continually falling oil price compels the Bolivarian Republic to call a halt to the arrangement, international opinion suggest that it is a question of when rather than if the Maduro administration turns off the tap on the deal.
The pessimism over the future of PetroCaribe initiated by the International Monetary Fund (IMF) is persisting. On Tuesday, an online article published by Bloomberg News all but called time on PetroCaribe, which described as an "oil-for-jeans giveaway." The description it sums up the generosity of the deal, which, since 2005 has allowed "countries from Guyana to Nicaragua… to trade for Venezuelan oil using everything from jeans to pasta," and which allows countries to finance part of their oil purchases from Venezuela at 1 per cent interest over 25 years.
The article endorses the IMF's view on the shakiness of PetroCaribe asserting that it looks "less secure as Venezuela faces inflation that has risen to 63 per cent.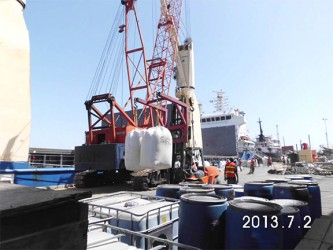 More significantly from the standpoint of the beneficiary countries the article says that "at least four countries… are taking steps to reduce their reliance on Venezuela's subsidy," seemingly in response to the warning sounded by the IMF. The four countries named are Guyana, Haiti, Belize and Jamaica though, officials here in George-town, are silent on how Guyana, which provides rice and paddy to Venezuela in exchange for fuel, intends to break out from the PetroCaribe agreement. Nor has the Government reacted to the IMF view on PetroCaribe though (as reported in this newspaper two weeks ago) the Guyana Rice Development Board (GRDB) says that with the Venezuelan market now receiving around 200,000 tonnes of rice and paddy out of exports of around 500,000 tonnes there is a considerable incentive to diversify its rice market, an option which the GRDB says it is pursuing.
Suggestions that PetroCaribe, regarded at the time of its introduction as the centrepiece of the late Hugo Chavez's regional foreign policy matrix may have now come back to haunt both the benefactor and the beneficiaries are reflected in the derisory descriptions that have now attached themselves to the agreement. The Bloomberg article quotes JP Morgan Chase and Company analyst Franco Uccelli as describing the terms of the PetroCaribe agreement as "almost free money" and adding that "if somebody were to pull the plug on those flows it would be difficult to replace with well-priced funds from a different source."
According to the Bloomberg article the future of PetroCaribe could depend on whether or not yesterday's meeting of the Organization of Petroleum Exporting Countries (OPEC) agreed to reduce output to boost prices. "An unfavourable outcome will threaten the economy (of Venezuela) including its ability to maintain PetroCaribe," the report says. Under PetroCaribe, Venezuela finances as much as 60 per cent of the cost of oil shipments.
These are not the heady days of the Hugo Chavez administration. Venezuela has its own economic burdens to bear. Despite being one of the world's leading oil producers it has "the world's highest inflation and the worst recession in the region."
Guyana, according to the Bloomberg article, "is using the (PetroCaribe) programme to reduce debt and increase savings" while Belize is using PetroCaribe financing to "strengthen external buffers."
The report quotes Jamaica's Central Bank Governor Brian Wynter as saying that the Caricom island state is seeking to "build a resilience in the economy, restore the buffers and reserves, diversify from fuel oil, increase renewables and do something on conservation" in order to reduce its current dependency. The article also quotes a July IMF report on regional financial risk as saying that Jamaica is seeking to boost its international reserves "to hedge against a potential reduction in aid from Venezuela." The report also quotes the IMF as saying that Haiti, "which owes Venezuela the equivalent of 15 per cent of its gross domestic product" is aiming at "strengthening fiscal policies to boost government deposits."
According to the report, since its inception, PetroCaribe has disbursed $28 billion in oil, which amount, it says, is more than it has in central bank reserves. This revelation was reportedly made by Venezuelan Foreign Affairs Minister Rafael Ramirez at a November 20 meeting at which he disclosed that Caracas had "no plans to change the agreement." The report says that up to this time beneficiary countries have repaid US$16 billion "including $3 billion in goods such as clothing and food, instead of cash."
The Bloomberg article says PetroCaribe oil deliveries to Central America and the Caribbean averaged 100,000 barrels a day this year, unchanged from last year; excluding "about 100,000 barrels a day sent to Cuba."
Venezuela reportedly lost around 30 per cent of its foreign currency earnings due to the drop in crude prices last month, the country's President Nicholas Maduro said in a nation-wide address  on November 13; an announcement that is unlikely to cause beneficiaries of the PetroCaribe deal to breathe any easier. Indeed, increasing pressure to boost sales and, by extension, maximize earnings, has largely influenced views like those of Luisa Palacios, Managing Director of oil consultancy Medley Global Advisors who asserts, "If you are having difficulty increasing oil production, and oil prices are falling, your only option is to increase the share of exports fetching international prices."
Comments

(Prepared by the Guyana Marketing Corporation and published by Stabroek Business as a public service) The New Guyana Marketing Corporation has agreed to provide us with the above information which we will publish on a weekly basis subject to receipt.

The New Guyana Marketing Corporation has agreed to provide us with the above information which we will publish on a weekly basis subject to receipt.

A scheduled visit here by a Brazilian trade and investment delegation originally due to take place this month as a follow-up to one to Brazil by a team of Guyanese state officials last May has been postponed until mid-February, Stabroek Business has been informed.