Five years ago during an interview with one of the country's largest private sector enterprises, the Stabroek Business sought its Chief Executive Officer's views regarding the greatest threat to the health of the business sector in Guyana. Without hesitation, he responded, "scarce managerial skills." He went on to point out that increasingly, qualified and competent Guyanese managers were "forever" seeking what they considered to be greener pastures. Local training institutions, he added, were underequipped to provide sufficiently large numbers of suitable replacements for those who choose to "move on."
Another business executive explained that private sector entities seeking to secure adequately qualified "management" personnel have, in several instances, been compelled to pay top dollar for qualified staff or else to rely on the services of even more high-priced consultants to get critical jobs done.
Efforts to create a training regime designed to improve the correlation between skills requirements and training opportunities have witnessed limited collaboration between the private sector and the University of Guyana. However, with UG experiencing its own seemingly unending problems, those collaborative efforts have remained largely limited to bilateral programmes involving individual private sector entities and UG.
The country's yawning skills gap remains as wide as ever and how one creates a strong private sector in the face of this constraint remains a major concern.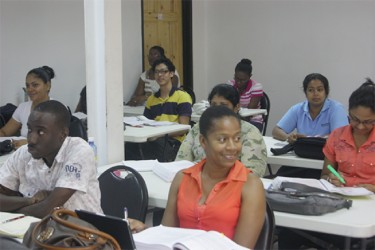 It is much the same with the public sector where, traditionally, upward mobility has been as much a function of attrition as it has been a function of merit. Indeed, there exists a widespread view that there may well be many cases in which the demands of the job are beyond occupants of some posts (in some instances sensitive ones) and that this deficiency might be due to a combination of a lack of both operational experience and training. While some public servants would have pursued higher education at the University of Guyana, qualifications, in many instances, have not matched skills' requirements.
In the past two decades or so high costs have placed restraints on the granting of scholarships for overseas tuition by both the public and private sectors, with train ing at foreign institutions relying increasingly on self-sponsorship or else on government-awarded scholarships funded by international organizations. Additionally, and to a greater extent, both public and private sector institutions have become more selective in the granting of scholarships, limiting these to persons holding key and critical posts whilst paying less attention to the broader skills needs of the institutions.
Since 2011 the locally based Nations University has teamed up with the Australian Institute of Business (AIB) to offer a Master's degree in Business Administration (MBA) that seeks to help tackle some of the human resource challenges afflicting the public and private sectors. Nations University's MBA programme offers what one of its students describes as a "suitable and relevant qualification" that fits the bill for a broad range of students, from the upwardly mobile business executive or senior public servant to the forward-looking business executive seeking to run a more efficient business.
The local campus has been mindful to market the "quality assurance" aspect of the programme, pointing out that student admissions, approval of lecturers, teaching materials, and assessments are all handled by AIB in Australia. Additionally, it boasts that at a total cost of $1.2 million it is "the most economical MBA programme available to the Guyanese market."
Over the one year of studies, students complete 12 courses: Leadership, Strategic Management, Strategic Marketing, Corporate Governance Concepts and Practices, Strategic Operations Issues, Strategic Finance Issues, Strategic Human Resource Management, Financial Policy, Marketing Communication, and New Product Management. The final module is a project.
One subject is studied each month and the programme includes two days and one weekend, of "intensive workshop sessions." The programme takes what the university describes as "a work-based and practical approach" that includes one exam per month.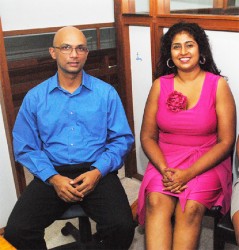 Over time the programme appears to have fit the bill as far as meeting a broad range of student needs is concerned. Some of its recent graduates include Guyana Marketing Corporation General Manager Nizam Hassan, International Consultant and senior Georgetown Chamber of Commerce and Industry (GCCI) official Vishnu Doerga and qualified pharmacist and businesswoman Sandra Khan, people with diverse career backgrounds.
From a private sector standpoint Khan, who worked with both the public and private sectors before establishing her own pharmacy, says the widespread interest in the MBA programme is a reflection of an increasing interest among businesspersons in securing skills that better equip them to manage their own businesses. It is, she says, a determination to be better at what they do that takes them to the MBA programme.
No less important in circumstances where overseas tuition at the level of the MBA is unaffordable to many Guyanese, the Nations/AIB programme has attracted 260 persons over the period of its existence. More than that and judging from the high number of self-sponsored students, it would appear that the four-year-old programme has come to be regarded as a vehicle for upward mobility in a wide range of sectors.
Nations University Administrator Vanya Chesney points out that one of the barometers for measuring the recognition which the programme has secured is the fact that it has attracted both the Bank of Guyana and all but a few of the local commercial banks.
Doerga, a 2011 graduate who now works with the programme says that his MBA now better equips him to secure international consultancies. Employees of other state institutions including the National Insurance Scheme have also completed the programme.
Around the Web