(Trinidad Guardian)  – Soca star Machel Montano has partnered with New Era, a global lifestyle brand, to launch five exclusive caps that will be sold during 2014 Carnival.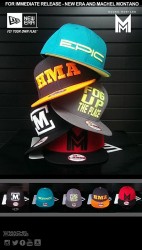 A limited-edition collection, only 100 of each design, are available to the public and will be sold at the Machel Montano store in Trinidad's Piarco International Airport. The collection features Montano's signature M and double M logos, as well as, logos from his current hit songs —Happiest Man Alive, Fog Up the Place, and Epic.
"Machel has been a longtime, avid supporter of the New Era brand," said Rennie Gajadhar, marketing manager of New Era Canada. "Naturally we are honoured to be aligned with such a globally recognised talent."
This comes in time for Montano's annual Carnival concert, Machel Monday on February 24 at the National Stadium. This year, the theme is Happy Nation.
Known for a diverse range of guest acts, this year's concert will be no different. This year, iconic R&B group Boyz II Men will be among the guests at the concert and they will perform Can't Let Go, a new collaboration with Montano.
Montano has also teamed up with Soular, the local artisan natural foods company. Fans will be able to sample their limited edition dark chocolate bar.
Soular, operating quietly out of the hills of Maracas Valley, has been concentrating on a small audience of discerning customers through the local gourmet and health food sector.
Michael Parris, one of the company's co-owners, spoke of the benefits of the link-up with Montano.
"It's a collision of two of Trinidad's greatest offerings to the world—our chocolate, our music. Machel's theme this year is happiness. And chocolate, unknown to many, is a natural antidepressant."
After Carnival, Soular will continue to offer its products—goods such as sun-dried bananas and cocoa nibs—through Machel's M Store in the airport and other select local outlets. But this project, the chocolate bar with Machel's image emblazoned on the front, is a Limited Edition for Carnival 2014.
Comments

DENVER, (Reuters) – Taylor Swift won her trial against a Colorado radio personality yesterday after a jury found that the former DJ assaulted and battered the pop star by groping her bare bottom, and awarded her the symbolic $1 in damages she had sought.

(Reuters) The Indian government dismissed the controversial chief of its movie censorship panel on Friday, following months of criticism from Bollywood film-makers and fellow panelists angered by attempts to sanitise art and popular culture.

CROPREDY, England,  (Reuters) – Grammy award-winner Petula Clark sang her global hit "Down-town" about as far from "where the neon signs are pretty" as she could at the weekend — to thousands in a field in rural England.
(Reuters) – Bruce Springsteen is headed to Broadway for an eight-week solo theater run that he says will feature "just me, the guitar, the piano and the words and music." "Springsteen on Broadway" will start Oct.
VANCOUVER,  (Reuters) – "Deadpool" star Ryan Reynolds said yesterday that actors and crew were "heartbroken, shocked and devastated" at the death of a driver in a motorcycle stunt in Vancouver that went wrong.