LONDON (Reuters) – Peaches Geldof, second daughter of Band Aid founder and musician Bob Geldof and a media and fashion personality in her own right, has died at her home in Kent, southern England, aged 25, her family said on Monday.
Kent police issued a statement saying the death of a 25-year-old woman, whom they did not identify, was being treated as a "non-suspicious but unexplained sudden death".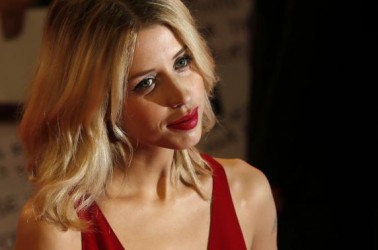 Bob Geldof, the Irish singer who rose to prominence as the leader of the 1970s-1980s band the Boomtown Rats, and later organized the charity Band Aid and the Live Aid concerts to raise money for famine relief in Ethiopia, said in a statement that the family were "beyond pain".
Peaches' husband, rock musician Thomas Cohen, issued a statement saying: "My beloved wife Peaches was adored by myself and her two sons … I shall bring them up with their mother in their hearts every day. We shall love her forever."
Making an early debut in the London glamour and society scene, Peaches Geldof wrote a weekly social and political column for the Daily Telegraph from the ages of 14 to 17 and also contributed to the Guardian.
She was often seen partying and clubbing in London's vibrant night scene but firmly denied using drugs.
Married for the second time after a first marriage that lasted only six months, she had two sons with Cohen, both under 2 years old.
Peaches was only 11 when she and her two sisters, Pixie and Fifi Trixibelle, lost their mother, the television presenter Paula Yates.
Yates was married to Geldof from 1986 to 1996 but left him for the Australian rock star Michael Hutchence, who committed suicide in 1997. Yates died three years later from a heroin overdose, aged 41.
After Yates's death, Geldof brought up Tiger Lily, Yates's daughter with Hutchence, alongside her three half-sisters.
Peaches' last Twitter post, on Sunday, was a photograph of herself and her mother. In an interview with Elle magazine in 2013, Geldof had said that, when her mother died, "I just blocked it out".
"I didn't grieve. I didn't cry at her funeral. I couldn't express anything because I was just numb to it all. I didn't start grieving for my mother properly until I was maybe 16."
Her father issued a statement on behalf of the family that said: "She was the wildest, funniest, cleverest, wittiest and the most bonkers of all of us. What a beautiful child. How is this possible that we will not see her again? How is that bearable? We loved her and will cherish her forever."
He described the family as "fractured so often but never broken".
Twitter was immediately filled with messages from fans and followers, including one that read: "Heaven gained a beautiful angel R.I.P beautiful girl."
Peaches Geldof also wrote a column for the British magazine Mother & Baby, whose editor Claire Irvin told Sky News:
"She was absolutely unique and she brought her own thinking and take on anything I ever had to do with her. But the biggest legacy is going to be those two boys, and the love that she poured into them."
Comments

DENVER, (Reuters) – Taylor Swift won her trial against a Colorado radio personality yesterday after a jury found that the former DJ assaulted and battered the pop star by groping her bare bottom, and awarded her the symbolic $1 in damages she had sought.

(Reuters) The Indian government dismissed the controversial chief of its movie censorship panel on Friday, following months of criticism from Bollywood film-makers and fellow panelists angered by attempts to sanitise art and popular culture.

CROPREDY, England,  (Reuters) – Grammy award-winner Petula Clark sang her global hit "Down-town" about as far from "where the neon signs are pretty" as she could at the weekend — to thousands in a field in rural England.
(Reuters) – Bruce Springsteen is headed to Broadway for an eight-week solo theater run that he says will feature "just me, the guitar, the piano and the words and music." "Springsteen on Broadway" will start Oct.
VANCOUVER,  (Reuters) – "Deadpool" star Ryan Reynolds said yesterday that actors and crew were "heartbroken, shocked and devastated" at the death of a driver in a motorcycle stunt in Vancouver that went wrong.