(Trinidad Express) MUSICIAN and recording artiste Isaac Blackman was beaten and robbed by thieves who stole valuables from his home in Piparo around midday yesterday.
Blackman, 31, was at home with his two sons, aged two and three years old, when at least five men stormed his house. Blackman is the son of the late Ras Shorty I (Garfield Blackman), a member of his family's music band The Love Circle, and is internationally known for his 2006 hit song "To the Ceiling".The family has for many years lived in an isolated area of Piparo. Blackman told the Express by telephone: "We had just had breakfast. Both of them the children) were in my lap looking at television. They were not feeling well. One had an asthma attack the night before, and my wife went to work". He said the front door was locked but the back door was open.
"I saw four blades (as the thieves entered) and they told me to get on the floor and they pushed me down. They took the children from my arms. They tied up the boys with string and twine and tied me up with tie straps. They put the children in a room and closed the door," he said.
Blackman said the men began interrogating him, asking for the keys to his vehicle's cash and valuables.
"I couldn't remember where I put my keys and they hit me a planass (lash with a cutlass) on my head. They took all that they could find —studio equipment, appliances, phone and other valuables and they loaded it in my van," he added.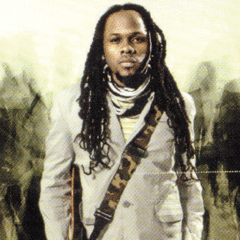 He said in a bizarre twist, the thieves complimented Blackman on his music, before leaving.
"They said I like your music, and they don't mean to rob me, but this is how life is now. I am not hating on them, because at the end of the day, life is the most valuable thing that exists."
Blackman said he was grateful to have survived along with his children.
He said, "I came from simple beginnings so I understand struggle. But it is a materialistic culture that drives this. I just wished that young men choose a better option, and they don't resort to these things to survive. We have a vast amount of wealth as a nation, so people to be on that level of desperation to survive."
Blackman said his mouth was also gagged, but as the thieves were leaving, one man removed the cloth from over his nose, saying, "I don't want you to die." He was able to untie himself and went in search of his children. Police were last night trying to find the stolen van, a Ford Ranger, registration TCD-1198, valued at TT$120,000. Blackman said he was yet to search the home to determine how many items were stolen.
Around the Web