Today marks the 100th birth anniversary of A J Seymour, Guyana's greatest man of letters. I make that judgement because of the extraordinary range of his literary interests and accomplishments. Martin Carter is the greatest poet Guyana has produced. There are other Guyanese of literary genius – I think, for example, of the novelists Edgar Mittelholzer, Wilson Harris and Roy Heath and of Denis Williams that distinguished artist, anthropologist and writer, also of Norman Cameron who was celebrated as teacher, playwright, editor and historian and of Mahadai Das, our greatest woman poet. And there are others who deserve mention. But in terms of work of great value in a prodigious number of fields Arthur James Seymour (AJS) seems to me to surpass anyone else.
In a tribute in Kyk-Over-Al to mark his 75th birthday I wrote the following:
"His overall contribution to the cultural tradition of Guyana and the Caribbean is truly astonishing… This amazing man's work contains poems, historical publications, reviews, broadcasts, essays, addresses, entries in anthologies, forewords, lectures, talks, pamphlets, memoirs, sermons, eulogies, magazine work,


and books in such profusion that one would be excused for thinking this was the record of a school, not one man alone."
And in this passage, it should be noted, there was no mention of the fact that he was also, and remains, Guyana's most influential editor achieving lasting literary fame in Guyana and the Caribbean in the magazine Kyk-Over-Al which he founded in 1945 and continued to edit until 1961 during which period it became along with Bim, edited by Frank Collymore in Barbados, the best known literary journal in the West Indies. He was, at the same time, a prolific editor of anthologies of Guyanese and West Indian poetry. His Treasury of Guyanese Poetry (1980) is the most comprehensive and best anthology of Guyanese verse produced to date.
There can never have been a day when he was not writing, editing, compiling or speaking about his country's literature or assisting in the literary work of others. There really is no one quite like him in our history. I remember those long-gone conversations when he and I were editing a revived Kyk-Over-Al in the period 1984-1989. "What do you think of this, Ian?" and another idea would start on its journey.
But it was not only what he so prodigiously produced and helped others produce. It was the nature and timing of his work. In an appreciation of his achievement on his 70th birthday I tried to capture the pioneering dimension of his work in a piece I wrote: "His life at one very important level is a record of 50 years of dedicated work in literature. He began in an era when everything was still to be done. Indeed, it may be that pioneers have to attempt too much. When young Seymour in the early 1930s seriously began to think what contribution he might make to life and letters in his homeland, consider how much needed to be done, how many moulds required breaking, how many initiatives needed to be taken. The empire had not yet begun to fade. The status of his country was colonial, the mentality dependent, the heritage imperial, the culture derivative. Think of the varied challenges that must have faced a young man of sense and sensibility in those times. It must have almost seemed too much. There were poems to write whose themes were Guyanese and Caribbean, not metropolitan, and whose imagery was tropical and experienced, not temperate and second-hand. There was a whole new world of deeply felt historical experience to open up. There was new thinking to be done in half a dozen fields. Critical work had to be informed by different themes and original perspectives. So many fresh starts had to be made. A whole new context had to be prepared for the coming generations. The work that is done at the beginning of anything, like the foundations of a great building sunk beneath the earth, is least seen but it is the most important part."
Given the multi-dimensional role he played in the world of letters, one might easily think that there could not have been much time for anything else in the life of AJS. Far from it. He was consumed by other interests. He was a conscientious, full-time civil servant pursuing a distinguished career to the highest level. Above all he was a devoted husband and father and God-fearing man whose life very much revolved around family, friends and Church. He lived a good life to the full, every hour measured against the best a man could strive to be.
On the occasion of his 100th birth anniversary AJS is deservedly being honoured by a concert and readings tonight at the Theatre Guild Playhouse, by an exhibition of his work at the National Library and by entering his name in the Library's Hall of Fame in the literary arts. In this connection, I mourn the tragic death last Christmas Eve of Gillian Thompson, Chief Librarian. She was a leading organizer in these celebrations in honour of AJS. She was an excellent person and an exceptional toiler in the ancient and marvellous kingdom of books. Her loss is a terrible one in the world of letters. Hers was a life of great merit senselessly cut short.
AJS will also be honoured by the Caribbean Press reprinting the original series of Kyks starting in 1945 and by fixing a commemorative plaque on the house in North Road where he and his wife Elma lived for so many years. His Collected Poems will also be republished in the Caribbean Press's Guyana Classics series.
He deserves great honour. I will always remember him. I loved the man and I loved his poetry. In the end he was a poet through and through. He wrote poems almost until the day he died. In the last year of his life, on his 75th birthday, in a small gathering of family and friends, he read a poem composed for the occasion. Lucid as the sun, refreshing as the wind pouring through the windows of his North Road Bourda home, he read 12th January, 1989:
Bless Father God, I pray,
The gift of my birthday,
This milestone – I alive
At age seventy-five.
Bless, Holy Spirit, bless
With Thine own holiness
All that I do and say
As from Thy will today
And Jesus Christ Thy son
May all His Grace be done.
The clear, low voice of the great old man, the old poet, saying the simple, clear, shining lines brought tears to my eyes.
Comments
CARACAS/HOUSTON (Reuters) – Venezuela's unraveling socialist government is increasingly turning to ally Russia for the cash and credit it needs to survive – and offering prized state-owned oil assets in return, sources familiar with the negotiations told Reuters.
By Carl Bildt CHICAGO – We are now in the final days of the industrial age.

During Men's Health Week, the man/woman in the street were asked to speak on their lifestyles and what they do to maintain their health or to encourage their significant others to lead healthy lifestyles.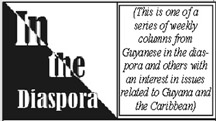 By The Caribbean Voice There are no reliable statistics on the amount of persons engaging in the use of illegal drugs or those described as addicts.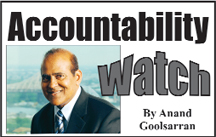 In last week's article, we referred to the two recognized methods of accounting for costs relating to the exploration, development and production of crude oil and natural gas: the "successful efforts" (SE) method and the "full cost" (FC) method.